Motorists stuck overnight remain stranded on one of Scotland's main roads but the Transport Minister has said the road is "almost clear".
Jack-knifed lorries and extreme weather combined to block the M80 which connects Glasgow and Stirling, leaving hundreds of drivers stranded.
Motorists reported being stuck for more than 17 hours with some spending the night in their cars and others abandoning their vehicles on the motorway.
Emergency responders and volunteers, including mountain rescue teams, checked on stranded drivers, with good samaritans also handing out food.
Transport Minister Humza Yousaf said shortly after 3pm on Thursday that the northbound lane was clear and operations were ongoing to remove around 10 vehicles stuck southbound.
John Gent from Plymouth told the BBC he has been stuck on the M80 at Stirling since 8pm on Wednesday.
He said: "Fortunately the people on the neighbouring estates have been bringing over bottles of water.
"There's a motorway bridge about 400 metres away from me and they've set up a little area there where they're making teas and coffees for people.
Earlier, Dundee HGV driver Alex Downie described being stuck on the M80 near Castlecary since 5pm on Wednesday.
He told BBC Radio Scotland: "A few volunteer people came up and down the roads, it must have been about one o'clock this morning, a gentleman came over from his house with provisions and passed them out to people in cars."
The incidents came after Scotland's first red warning for snow was issued covering much of the Central Belt and warning against travel and the risk of becoming stranded.
First Minister Nicola Sturgeon singled out the M80 when criticising transport company bosses who sent out lorry drivers despite official warnings.
She said traffic cameras showed "there were far more HGVs on that road than there should have been when a red warning was in place".
Speaking during First Minister's Questions she said the situation on the M80 was now "improving" and praised the police, fire service, mountain rescue teams, volunteers and others for efforts to keep the stranded travellers safe.
The Scottish Fire and Rescue Service said they bought hundreds of pounds worth of food and water from supermarkets to distribute to stranded drivers on the M80, along with blankets.
The services used its 4×4 vehicles to deliver the supplies on the snow-bound road.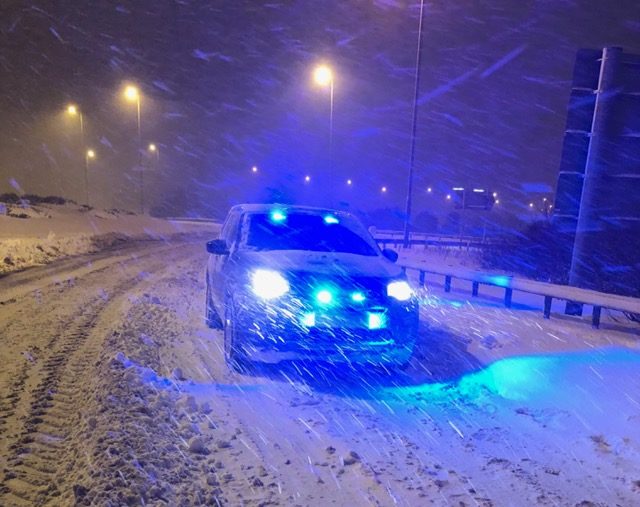 "They did everything within their power, working with our Operations Control staff and volunteers, to ensure those stranded were provided with every available support."