Motorists are being urged not to travel as weather warnings were extended after hundreds of drivers were stranded on a motorway in Scotland overnight.
At the height of the incident, an estimated 1,000 vehicles were stuck on the M80 and road crews were working to free 300 which were still there on Thursday morning.
Drivers reported being stranded for up to 13 hours, with some spending the night in their cars, and others abandoning their vehicles on the motorway.
The red severe weather warning for snow in central Scotland expired at 10am on Thursday; however, the amber warning in place across much of the country has now been extended from 6pm on Thursday until 10am on Friday.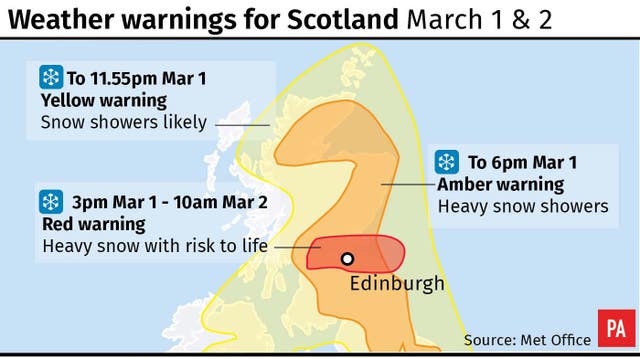 "The advice is to avoid all but absolutely essential travel. If you do travel there will be disruption, you may possibly get stranded."
Police were advising people not to travel on Thursday.
Superintendent Helen Harrison said: "Many of those people who did go out yesterday faced treacherous conditions, blocked roads, being stuck in their vehicles or even being involved in collisions. We do not want anyone to put themselves or others at risk in these conditions.
"We are continuing to run a multi-agency command centre at Bilston to co-ordinate the emergency response to the severe weather with our partners and keep Scotland moving as best we can."
Road crews were working to free drivers still stuck on the M80.
Speaking on Thursday morning, Stein Connelly, of Transport Scotland, told BBC Radio Scotland: "At the moment we have got 300 vehicles stranded out there.
"We are getting fuel to them and making sure they have got food and water.
"We have been transferring gritters up to the area to try and get that cleared.
"The main aim is getting people moving just now, the people that are stuck there."
Flights were also disrupted, with Glasgow Airport announcing that it will be closed until 3pm on Thursday, and Edinburgh Airport closed until midday.
Virgin Trains has shut all its routes to and from Scotland throughout the day, while ScotRail halted all operations in the red area until late morning.
Other major routes also faced disruption, with the M876 closed and reports of minor accidents on some roads.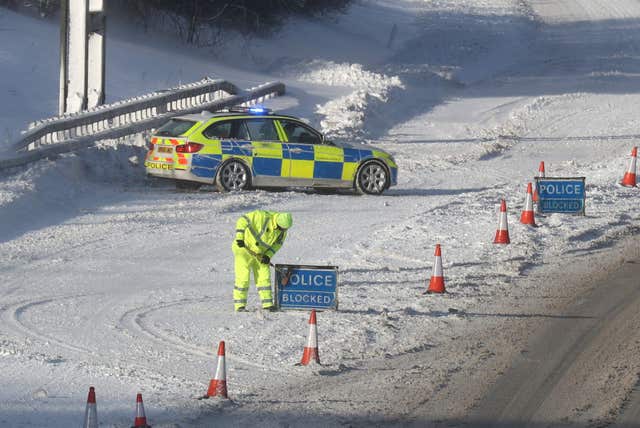 Glasgow School of Art was also closed.
The extreme weather has also seen NHS Greater Glasgow and Clyde cancel all non-essential operations and outpatient appointments on Thursday.
The Met Office amber warning states that frequent and often heavy snow showers are expected to continue through Thursday and overnight into Friday morning, with further significant accumulations likely.
The red warning was the first red alert for snow in Scotland since a new warning system came into place in 2011.
It warns there may be long delays and cancellations on bus, rail and air services and that roads may become blocked by deep snow, with many stranded vehicles and passengers.