A rural community has been left isolated after massive snow drifts cut off roads to the village.
The main route through Strathblane in the Stirling Council area was buried by the extreme weather which has been hitting Scotland since Wednesday.
She said: "We haven't been able to get out, my mum lives in a wee lane that's been tightly snowed in – we've been stuck here since it started.
"The community's got together, everyone's out digging the snow at the moment trying to get room for cars to get out – there's even someone out giving people wee pots of curry."
The 25-year-old, who had been getting treatment in Glasgow for burns to her leg, added: "I won't be going anywhere any time soon until people have cleared it.
"I've heard we had one delivery of something, we hadn't had a delivery for a few days.
Heavy snowfall began across Scotland with the arrival of the so-called Beast of the East.
A two-day red weather warning – the highest possible – was put in place for central parts of the country on Wednesday and Thursday.
Snow ploughs have been tackling the snow in the area in attempts to clear the roads.
Another resident of the Strathblane area, Gerry McDade, was almost left stranded overnight after trying to get back home from Milngavie, East Dunbartonshire.
The 46-year-old from Blanefield was making the near five-mile trip with his friend Vinny Cairney on foot when they got into difficulty – before getting help from a tractor.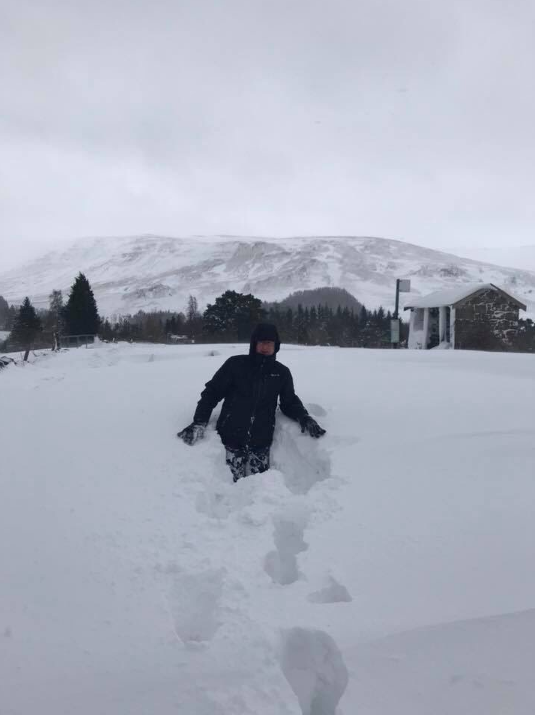 "We got stuck out in Milngavie but I had to get back to my dog. We started walking and a guy stopped in a tractor and gave us a lift."