Theresa May has issued a call for "pragmatic common sense" to deliver a Brexit deal that will be good for Britain and Europe, as she sent a message to Brussels: "Let's get on with it."
In an apparent warning to hardline Brexiteers to temper their expectations, Mrs May used a high-profile speech in London to acknowledge that neither side would get "exactly what we want" in talks on the future UK/EU relationship.
She dismissed the European Commission's insistence that it would not allow "cherry-picking" of rights and obligations, insisting that this was a part of any trade negotiation.
And she rejected chief Brexit negotiator Michel Barnier's argument that her "red lines" on quitting the single market, customs union and European Court of Justice have left only the option of a Canada-style free trade agreement, insisting that Brussels needs to "look beyond the precedents, and find a new balance".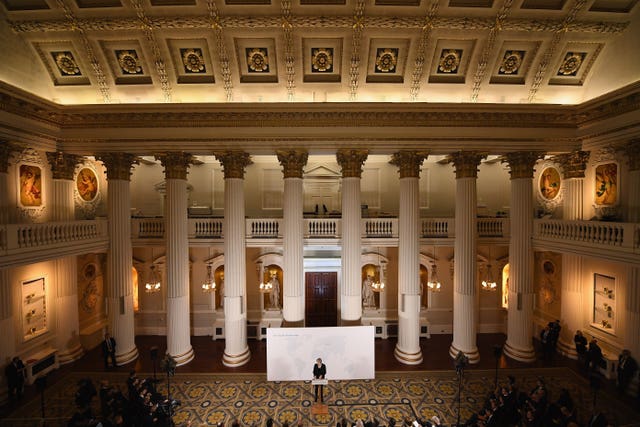 "We will not be buffeted by the demands to talk tough or threaten a walk-out," she said.
"Just as we will not accept the counsels of despair that this simply cannot be done."
But in response to questions, she stood by her mantra that "no deal is better than a bad deal".
After increasingly impatient appeals from EU leaders for more detail about Britain's aims, Mrs May used her keenly awaited address at the Mansion House to put more flesh on the bones of her vision for "the broadest and deepest possible partnership" after Brexit.
Mr Barnier welcomed the speech for offering "clarity" on the UK's aims and a recognition that there would be "trade-offs".
But German MEP Manfred Weber – an ally of Chancellor Angela Merkel and leader of the centre-right EPP grouping in the European Parliament – said:  "I don't see how we could reach an agreement on Brexit if the UK Government continues to bury its head in the sand like this".
Mrs May said that any deal must pass the "five tests" of respecting the 2016 referendum result; delivering an enduring solution; protecting security and prosperity; leaving Britain an "open, outward-looking, tolerant, European democracy"; and strengthening the union of the UK.
And she said the agreement should rest on "five foundations", including binding commitments to ensure fair and open competition and an independent arbitration mechanism to resolve disputes.
In a message agreed with her Brexit "war cabinet" at Chequers last week, she said Britain was ready to:
– Accept "binding" reciprocal commitments to ensure fair and open competition for businesses and rule out any "race to the bottom" on standards;
– Give up passporting arrangements in return for a new system allowing financial services in the UK and EU to access each others' markets by maintaining "the same regulatory outcomes over time";
– Allow UK courts to "look at" ECJ judgments, particularly where Britain and the EU have identical laws;
– Make "appropriate" financial contributions for associate membership of Europe-wide medicines, chemical and aerospace agencies;
– Develop a "labour mobility framework" to allow businesses and self-employed professionals to work across the UK and EU;
– Establish "mutual recognition" in areas like regulation of goods, broadcasting licences and professional qualifications.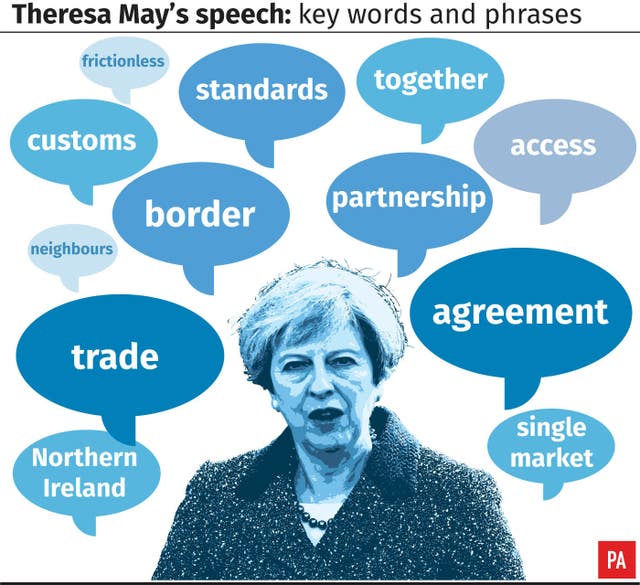 Declaring that she was "confident" that a deal was "achievable", Mrs May said her message to Brussels was: "We know what we want. We understand your principles. We have a shared interest in getting this right.
"Let's get on with it."
She accepted the UK needed to resolve "tensions" in its negotiating position, but added: "There are some tensions in the EU's position too – and some hard facts for them to face as well."
Brexit should not be seen as an "ending" to the UK's relationship with Europe or as "an end in itself", said Mrs May.
"Rather, it must be the means by which we reaffirm Britain's place in the world and renew the ties that bind us here at home," she said.
"And I know that the United Kingdom I treasure can emerge from this process a stronger, more cohesive nation.
"This is an optimistic and confident future which can unite us all."
Mrs May acknowledged there would be "ups and downs" in the coming negotiations and that "no-one will get everything they want".
But she insisted: "By following the course I have set out today, I am confident we will get there and deliver the right outcome for Britain and the EU."
Mrs May was joined at the Mansion House by Cabinet ministers from both sides of the Brexit divide, including Philip Hammond, David Davis and Greg Clark.
Boris Johnson was prevented from attending by snow, but tweeted a picture of himself giving a thumbs-up to a copy of the speech.
Labour leader Jeremy Corbyn said: "After 20 wasted months, Theresa May has once again failed to bring real clarity to the negotiations – and worryingly, she admitted that her approach will reduce our access to European markets.
"She read out a long list of problems but failed to provide solutions, particularly on the urgent question of preventing a hard border in Northern Ireland.
"We clearly set out our Brexit priorities in Coventry on Monday. Theresa May's only clear priority today seemed to be to tie the UK permanently to EU rules which are used to drive privatisation
and block support for British industry."