Roads and railways have been rendered impassable by the coldest start to March on record, stranding hundreds of people in treacherous conditions.
The Army was called in as part of a major rescue operation to reach motorists trapped on roads by heavy snow and icy blasts.
Freezing rain and snow is expected to sweep across much of the UK throughout Friday.
Two police forces declared "major incidents" in response to the widespread disruption, turning to the military for help with rescues and to provide assistance to hospitals and medics.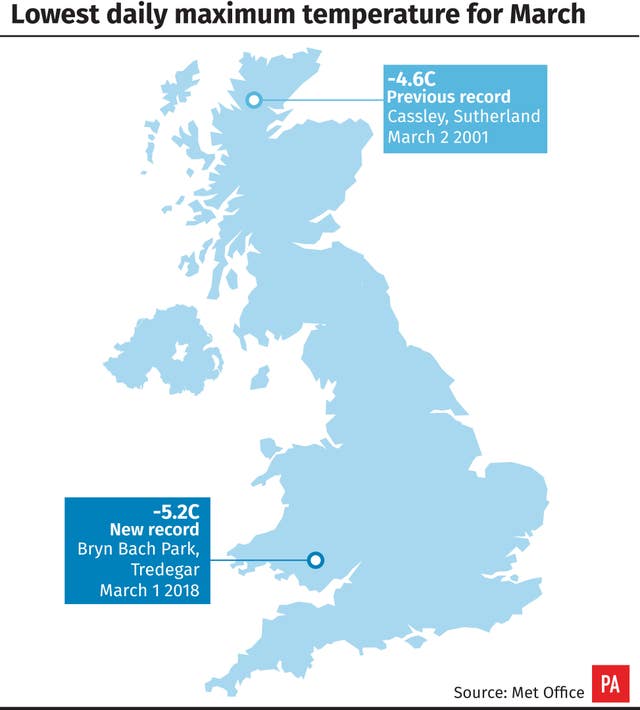 The Met Office said that Thursday saw the temperature slump to its lowest daily maximum on record for March, at minus 5.2C at Bryn Bach Park, Tredegar.
Half a metre of snow was measured in two areas – Drumalbin, Lanarkshire, and St Athan in Glamorgan, South Wales.
Strengthening winds caused blizzards and drifting snow in some parts of the country, spelling travel problems for the fourth day in a row.
Flood warnings were also issued in several coastal regions by the Environment Agency, which published seven warnings and 20 alerts for south west and north east England.
Thousands of homes have also been left without power and hundreds of schools have been forced to close, including the majority in Wales.
Hampshire Police said they had called in the military to help evacuate people from the A31, while Avon and Somerset Constabulary said about 100 vehicles had become stuck on the A303 at Ilminster.
Cars were pictured strewn across the road on the A303 – where drivers reported being stuck for 17 hours – with queues stretching back miles.
Wiltshire Council also announced a major incident in response to the tailback and urged people to avoid the area.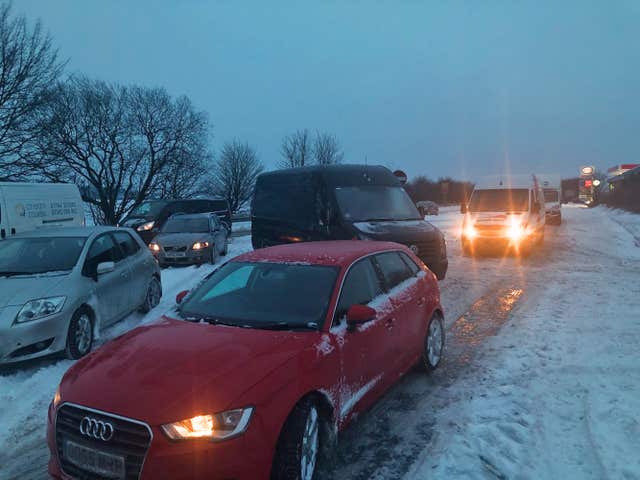 He said: "I left London at 6pm. We came to a standstill at the start of the A303 around midnight. There were lorries and cars in both lanes trying to get up the hill. We drove past a burned-out car, then we didn't move until 9.30am."
Rescue teams were similarly scrambled to the M62 in Greater Manchester, which was blighted by heavy snow and high winds overnight.
Crashes were also reported on Friday on the M20 and the M40.
Devon and Cornwall NHS and Shropshire NHS have both asked for military assistance, which began at 6am on Friday.
The Army has sent 10 4×4 vehicles and 20 troops to Shropshire, while the Royal Marines have deployed the same resources in Devon and Cornwall.
A South Western Railway service between London Waterloo and Weymouth ground to a halt near Christchurch, Dorset, on Thursday evening after the train track providing it with power froze.
It caused four other trains to stop behind it and forced passengers to endure a night without heating or electricity inside the carriages.
Commuter Philip Brown was on the 5.05pm service which had started the problem, along with 50 others, for around 15 hours.
"I didn't have any food or water. I couldn't tell you how cold it was but it was cold enough to prevent you from sleeping."
A red weather warning – the second in 24 hours – expired at 2am, but yellow warnings for snow and ice are also in place for vast swathes of the country for the whole day, while a yellow warning for wind covers the north west of England and Wales until midday.
The snow and ice alert for England and Wales, which is in place until 11.55pm, says: "Patchy freezing rain will affect some southern parts of England as well as west Wales until early afternoon, leading to icy stretches which may be difficult to see."
Up to 20in (50cm) of snow could fall over parts of Dartmoor, Exmoor and south east Wales.
Temperatures will once again be below freezing for many parts of the UK during the day, with strong winds making it feel even chillier.
Met Office meteorologist Steven Keates said: "We are not out of the woods yet.
"There's further snow to come, as well as a wintry mix of sleet and freezing rain."
Several people have already died as a result of the severe weather, including a seven-year-old girl.
The whole of the Irish Republic is also on red alert, valid until 6pm on Friday, after being hit by the worst snow in 35 years.
In Scotland, the severe weather is causing travel disruption, with roads closed and dozens of drivers stuck in a snowdrift.
National Grid withdrew a "gas deficit warning", reassuring households that domestic supplies would not be affected.
Nearly all train operators warned of cancellations and disruption again on Friday and hundreds more flights were cancelled.
Motorists across much of the UK have been warned against driving unless it is absolutely essential.