Work is continuing to get transport across Scotland back up and running in the wake of the extreme weather which hit the country this week.
While yellow weather warnings for snow and possible further disruption remain in place for much of the country on Saturday, clearing of roads, railways and runways is being carried out.
Scotrail said staff are working "night and day" to reopen lines, but in some areas the work of snow ploughs is being undone by more snow drifts after they pass.
The West Coast Mainline to England through Carlisle remains closed, but limited services such as Edinburgh to Glasgow, Glasgow to Ayr and Inverness to Aberdeen have been running from early morning.
Scotrail said: "Our network faces a lot of challenges as we work to get it back up and running.
"In some parts there are high winds of up to 40mph, which is causing snow to drift back onto tracks in exposed areas.
"In many cases our snow ploughs clear a line, only for the snow to drift back as soon as the ploughs move on. Freezing temps are also causing severe icing on some trains and in tunnels.
"We're working night and day to get as many routes open as possible – line testing is being carried out 24/7 until this has been achieved."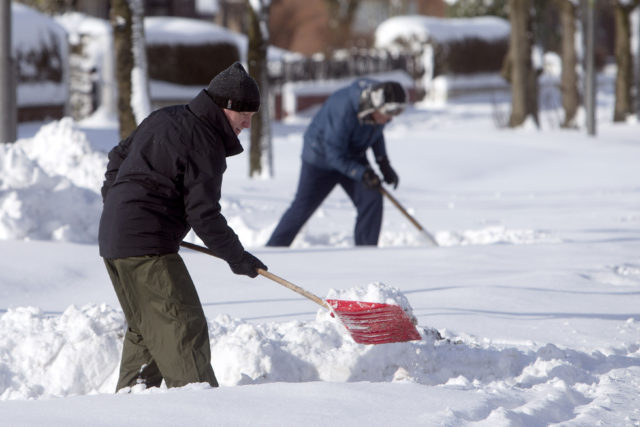 Rural roads and urban streets are maintained by local authorities, but the extent of snow drifts mean areas remain difficult for local people, delivery drivers and pedestrians.
Shoppers are also being asked to be "sensible" when buying food and supplies as stocks run low in some areas.
Deputy First Minister John Swinney said: "If you have capacity to help neighbours, or are the owner of large vehicles that could assist the clearance work on your local road, I would encourage you to volunteer and look out for vulnerable people.
"Shop deliveries in some local areas may be affected in the short-term, so I would also ask that people are patient and sensible when purchasing food or fuel, as the situation gradually returns to normal."
The developments come as the armed forces extended their efforts to help get essential medical staff to and from work amid travel disruption from "the Beast from the East".
Troops, backed by the emergency services and volunteers, were working in the NHS Fife and NHS Tayside regions from Friday evening onwards to transport vital staff to the hospitals where they work.
The Army had earlier been called in to take medics to and from Edinburgh's two biggest hospitals.
NHS 24 has appealed for help this weekend, asking anyone who can help their staff get to work to contact them via email servicedeliveryadmin@nhs24.scot.nhs.uk
Health Secretary Shona Robison said: "Emergency services across the country have given a superhuman effort over the past few days and I am particularly grateful to those selfless individuals across the country with 4×4 vehicles who have given up their time to get members of healthcare staff into work. They all deserve our deepest thanks.
"Health and social care staff have worked to ensure hospitals, surgeries and care homes keep operating throughout these difficult circumstances. The care they have delivered for patients has been nothing short of heroic."
Both Edinburgh and Glasgow airports are open for "business as usual" on Saturday, but some delays and cancellations still remain as weather disrupts travel across Europe.
A spokeswoman for Edinburgh Airport said: "As this situation is very fluid, it is important that passengers check with their airline regarding their flight details before travelling to the airport.
"We understand that the situation can be frustrating and we continue thank passengers for their ongoing patience and support."
On the roads, Lothian Buses are operating a Sunday service on Saturday and First Greater Glasgow said its buses are in operation with routes continually being assessed.
Yellow "be aware" warnings for snow and ice are in place across parts of the country over the weekend into Monday.
The Met Office warning states: "Further delays to travel and public transport could occur, whilst some rural communities could become or remain cut off. Further impacts to power supplies/mobile phone coverage are also possible."