The new car market is continuing to decline as demand for diesels plummets, industry figures show.
Just under 81,000 new cars were registered in February – down 2.8% on the same month last year, according to the Society of Motor Manufacturers and Traders (SMMT).
This was driven by a 23.5% fall in the number of new diesel cars bought.
Diesel cars held a market share of just 35% last month, compared with 44.5% in February 2017.
Registrations of petrol cars were up 14.4% last month, while demand for alternatively fuelled vehicles such as hybrids and pure electrics increased by 7.2%.
Some 258,000 new cars have been registered so far this year, a decrease of 5.1% on the same period in 2017.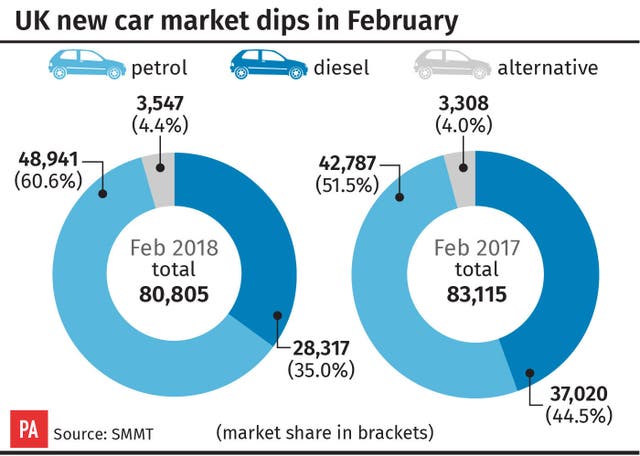 All diesels are expected to be subjected to a one-band increase in the first-year vehicle excise duty (VED) rate.
This came after the Government unveiled plans to ban the sale of all conventional diesel and petrol cars by 2040.
Environmental groups have called for restrictions on the most polluting cars entering towns and cities with the worst air quality.
February is traditionally one of the quietest months of the year for the automotive industry ahead of the March number plate change.
SMMT chief executive Mike Hawes said: "Although the new car market has dipped, it remains at a good level despite the drop in demand for diesel.
"Consumers should be reassured, however, that the latest cars are the cleanest in history and can help address air quality issues, which is why they are exempt from any restrictions.
"Looking ahead to the crucial number plate change month of March, we expect a further softening, given March 2017 was a record as registrations were pulled forward to avoid VED (vehicle excise duty) changes."
New VED rates came into force on April 1 last year which meant all new cars, except for those with zero emissions, are subject to an annual flat rate charge.
RAC research found the vast majority of drivers buying new cars are paying significantly more following the changes.