A huge number of workers were "negatively affected" by the conduct of their employers during last week's snowstorms, according to the Scottish Trades Union Congress (STUC).
The organisation has published a snapshot of employees' experiences, including accounts of staff being asked to walk for miles or drive in hazardous conditions.
The findings were released as plans for a fair work charter for workers affected by severe weather were agreed by the STUC and the First Minister.
In a joint statement they said they shared a "real concern" about workers being compelled to travel to work during the red weather alert warning of risk to life.
Just over 1,400 people completed an STUC self-selecting survey about travelling to work during last week's adverse conditions.
It found almost two thirds were not satisfied with their employer's response, while just over half were required to travel to work as normal during the snowstorm period.
Just over 40% were required to travel during the red weather warning.
Grahame Smith, STUC general secretary, said: "It is clear that huge numbers of workers have been negatively affected by employer behaviour during the extreme weather conditions.
"We are pleased that the Scottish Government agree with us that in future more needs to be done to make workers aware of their rights and employers of their responsibilities."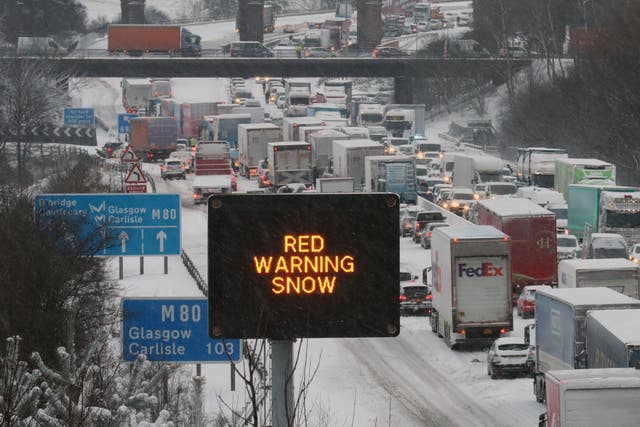 "That is why we have agreed to collaboratively develop a fair work charter focusing on the treatment of workers affected by severe weather or other emergencies."
They said the charter will set out fair work principles for employers to adopt in these circumstances, including recognising workers need a voice through a union.
The charter will highlight examples of employers and unions working flexibly and constructively.
The statement continued: "It is our view that legislation should be in place to protect the rights of workers during severe weather."
The First Minister and STUC said they will press the UK to legislate for this as employment law is reserved and make the case for the power to be devolved to Holyrood.
Scottish Labour leader Richard Leonard welcomed the charter, saying: "We have seen far too many reports of workers mistreating staff or forcing them into work during unsafe conditions.
"Labour will engage constructively with the development of this charter so we don't see a repeat of these scenes again."
The Scottish Greens said they shared concerns over the treatment on workers.
Green MSP Ross Greer said: "This situation is a stark reminder of the conditions exploited 'casual' workers in particular experience in the so called 'gig economy'.
"While we can safeguard against much of this where we have direct control, in the Scottish public sector, we urgently need to devolve employment law and put real protections into law for all workers."