The NHS is showing "no sign of recovery" following a tough winter which has seen its main performance target in accident and emergency departments hit its lowest level since it was introduced, experts have said.
Just 85% of patients were admitted, transferred or discharged within four hours of arrival in A&E in February, figures released by NHS England on Thursday show. The target of 95% has not been met since July 2015.
NHS England said staff had been faced with working in a "perfect storm" of appalling weather, persistently high hospital admissions due to flu, and a renewed spike in norovirus.
Nigel Edwards, chief executive of healthcare charity, the Nuffield Trust, said the immense pressures seen this winter were fundamentally driven by a lack of money and staff.
"If these are not addressed, it is inevitable that as difficult as February has been for NHS staff and patients, there will be worse to come," he warned.
Quoting NHS England chief executive Simon Stevens as saying it is "likely February will turn out to have been the most pressurised month the NHS has seen in its nearly 70 year history", Mr Edwards added: "Today's figures, sadly, do little to disprove that."
"The proportion of people spending more than four hours in A&E appears to be the highest for 15 years.
"The main waiting times targets for cancer and planned treatment are being missed, and there is no sign of recovery," he added.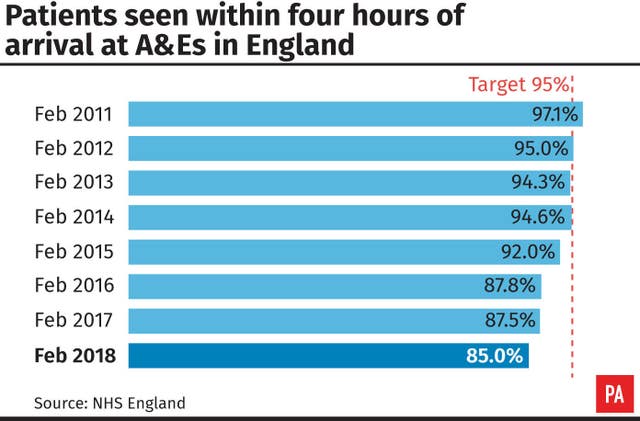 It said the "unprecedented move" was in response to the statistics, which also showed the worst ever performance of 76.9% at England's major emergency departments.
Its president, Dr Taj Hassan, said: "Performance that once would have been regarded as utterly unacceptable has now become normal and things are seemingly only getting worse for patients."
This winter has seen the worst flu season since 2011, with 306 confirmed deaths according to Public Health England (PHE). Thousands of people have also been affected by norovirus, leading to hundreds of hospital beds being closed every day.
But Dr Hassan added: "Let's be very clear, the current crisis in our emergency departments and in the wider NHS is not the fault of patients. It is not because staff aren't working hard enough, not because of the actions of individual trusts, not because of the weather or norovirus, not purely because of influenza, immigration or inefficiencies and not because performance targets are unfeasible.
"The current crisis was wholly predictable and is due to a failure to prioritise the need to increase healthcare funding on an urgent basis.
"We need an adequate number of hospital beds, more resources for social care and to fund our staffing strategies that we have previously agreed in order to deliver decent basic dignified care."
The Royal College of Surgeons said at least 62,000 fewer NHS treatments, including surgical operations, were performed by consultants this winter compared to the previous winter.
In trauma and orthopaedics, there was an 8.4% fall in treatments.
It said the "necessary evil" of postponing all planned surgery in January to relieve pressure on A&E departments resulted in many patients not receiving treatment when they needed it, "extending their time in pain or discomfort".
Its president, Professor Derek Alderson, said the NHS could learn from businesses.
"The retail sector can predict shop footfall based on small changes in temperature, and it prepares for the increase during the Christmas shopping period well in advance," he said.
"The same level of sophistication needs to be applied to the NHS and we must start planning for next winter now."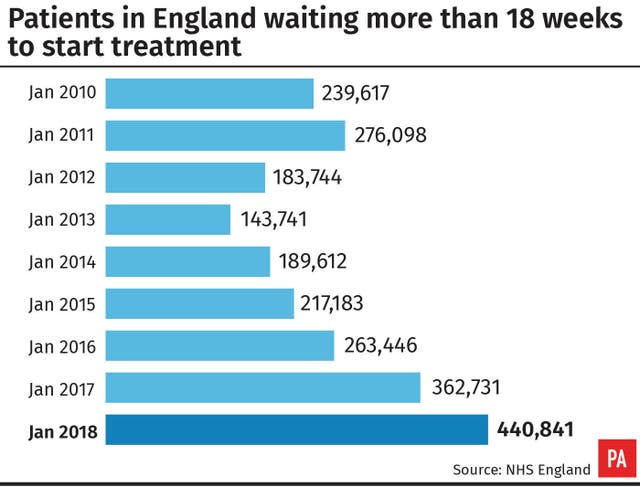 "Safe staffing levels are key to patient safety, and immediate investment is required to train and retain staff.
"The warning signs are plain to see, and ministers should be under no illusion that failure to act now could be catastrophic."
Dr Sue Crossland, vice-president of the Society for Acute Medicine, said this winter has had an "immense impact on the wellbeing and long term resilience of the core blood of the NHS, its staff".
"Staff will be tired, worn out and, unless the NHS leadership and management is careful, will feel that all their efforts have not been recognised in any tangible fashion," she added.
"We cannot let what has happened over the preceding nine weeks become 'normal' for the service and it is essential we plan more effectively and much earlier."