The Parsons Green bomb contained 400g of explosives – with just one gram capable of causing "serious injury to people or property", an expert has said.
It was only a matter of luck that the device containing TATP and shrapnel did not fully detonate, the Old Bailey has heard.
Iraqi asylum seeker Ahmed Hassan, 18, allegedly used a "student of the year" cash prize to buy a key ingredient of the bomb on Amazon.
He left the device inside a bucket contained in a Lidl bag on a Tube train during the morning rush-hour on September 15 last year, getting off one stop before it partially exploded, the court has been told.
Explosives expert Sarah Wilson compiled a report on the bomb after taking samples of white powder before it was destroyed, confirming it was made from TATP.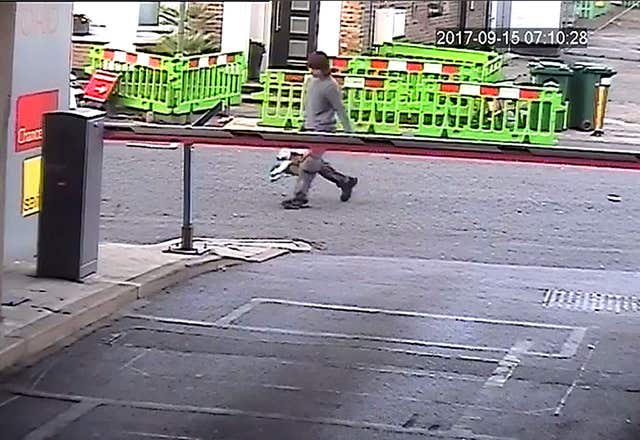 Ms Wilson, who has 17 years of experience in the area, said: "We looked at the carriage. There was no obvious explosive damage to the carriage itself. There was sooting in the ceiling."
Eyewitnesses have described seeing flames and wires sticking out of the bucket following the blast, she said.
Ms Wilson said: "TATP is a sensitive primary high explosive. It's very unstable and as such it's not produced for any commercial or military use.
"TATP is sensitive to a number of different stimuli – friction, impact or heat."
She added that hitting or dropping it in transit could cause it to detonate.
Just one gram of TATP can cause "serious injury to people or property", she said.
Some 93 passengers ducked for cover and scrambled to get off the District Line train when a fireball engulfed their carriage.
CCTV footage played to the jury showed commuters spilling out of the train, leaving bags and purses behind as the bomb smouldered inside the bucket.
Hassan fled to Dover, changing his clothes, but was picked up by police the following morning.
He denies attempted murder and using the chemical compound TATP to cause an explosion that was likely to endanger life.