Home Secretary Amber Rudd has visited the scene where former double agent Sergei Skripal and his daughter were found after they were targeted in an "outrageous" chemical attack.
Ms Rudd said the pair remain in a "very serious" condition five days after they were discovered slumped on a bench in Salisbury, Wiltshire.
Counter-terrorism police launched an attempted murder inquiry after Mr Skripal, 66, and his daughter Yulia, 33, were exposed to a nerve agent.
Detective Sergeant Nick Bailey, who was part of the initial response by authorities, is also in hospital.
Speaking after meeting Wiltshire Police Temporary Chief Constable Kier Pritchard in Salisbury, Ms Rudd said: "Still very serious for the two people who were indeed the subject of this outrageous attack and for the police officer, I understand it's still serious, although he's still conversing and engaging."
The nerve agent used in the attack was identified in scientific tests by Government experts earlier this week but it has yet to be named publicly.
Ms Rudd declined to reveal any further details about the substance, how it was deployed, or who is suspected of carrying out the poisoning.
She said: "I understand people's curiosity about all those questions, wanting to have answers, and there will be a time to have those answers.
"But the best way to get to them is to give the police the space they need to really go through the area carefully, to do their investigation and to make sure that they have all the support that they need."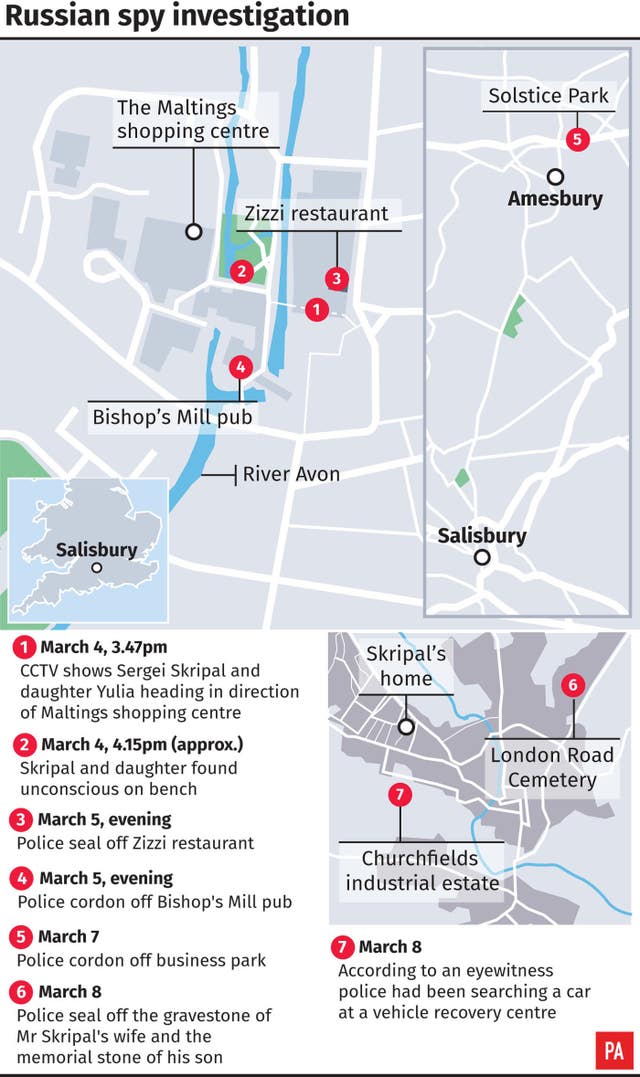 Ms Rudd said: "At the moment our priority is going to be the incident, which is why I'm here in Salisbury today, making sure that everybody's protected around the incident, making sure the emergency services have had the support that they need and will continue to get it.
"In terms of further options, that will have to wait until we're absolutely clear what the consequences could be and what the actual source of this nerve agent has been."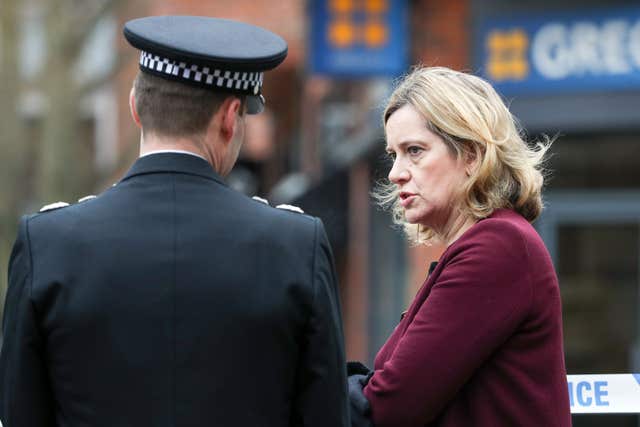 The figure includes members of the public and emergency staff, some of whom have had blood tests as well as receiving support and advice.
On Thursday, officers sealed off the gravestone of Mr Skripal's wife Liudmila, who was buried in 2012, and the memorial stone of his son Alexander, who was cremated last year, as the trail of evidence grew.
On Thursday night, a witness said police had been searching a car at a vehicle recovery centre close to the Russian victim's home earlier that day.
He described seeing around 10 people in hazmat suits looking at the vehicle, which was said to be a Mercedes people carrier.
Russia has denied responsibility for the attack, which comes seven years after Mr Skripal was released from the country as part of a spy swap with the US.
He had been convicted in his home country in 2006 for passing state secrets to MI6.