Britain is set to miss out on buoyant global economic growth over the next two years, according to new forecasts by the Organisation for Economic Co-Operation and Development (OECD).
The UK trails last out of the G20 economies in OECD growth projections for both 2018 and 2019, with Britain's rate of GDP increase declining in both years while many other countries surge ahead.
The OECD blamed the UK's position on high inflation dampening consumer demand and continued uncertainty about Brexit.
The body's Interim Economic Outlook – released as Chancellor Philip Hammond was preparing to paint a hopeful picture of Britain's prospects in his spring statement – nudges predicted UK growth for 2018 up by a tenth of a percentage point to 1.3%.
But 2019 is unchanged at 1.1%, compared to the OECD's most recent forecast in November, and both years are down on the 1.7% growth recorded for 2017.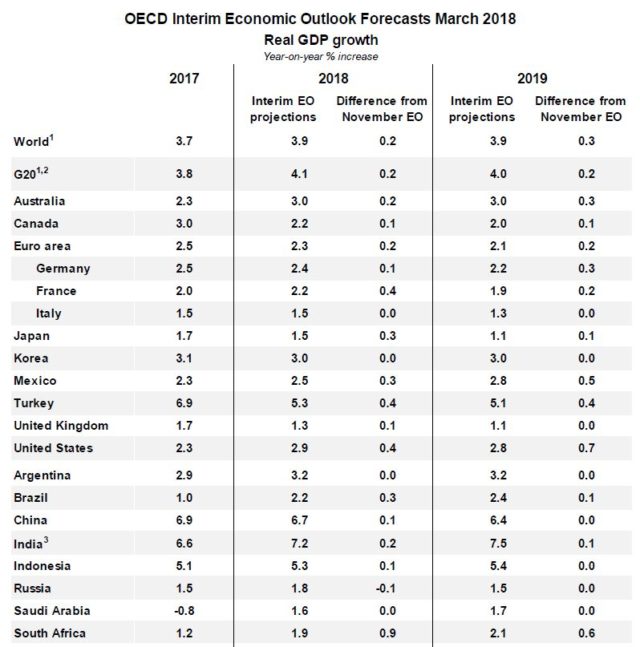 US economic growth is tipped for a rise from 2017's 2.3% to 2.9% this year and 2.8% in 2019, on the back of tax cuts and spending increases under President Donald Trump.
And while eurozone growth is expected to ease off from 2.5% last year to 2.3% in 2018 and 2.1% in 2019, major continental economies like Germany and France are forecast to out-perform the UK.
"High inflation continues to damp real household income growth and consumer spending, and business investment is slowing, amidst continued uncertainty about the future relationship between the United Kingdom and the European Union," said the OECD.
The report forecast a gradual rise in price and wage inflation in major economies, accompanied by a "normalisation" of interest rates away from the near-zero lows they have maintained in many countries since the crash of 2008.
With mounting fears of a trade war following Mr Trump's threat of tariffs on steel and aluminium, the OECD issued a plea to avoid protectionism.
"Safeguarding the rules-based international trading system will help to support growth and jobs," it said.
"Governments should avoid escalation and rely on global solutions to resolve excess capacity in the global steel industry."