Chancellor Philip Hammond has hinted he will turn on the spending tap in this autumn's Budget after positive public finance figures pointed to "light at the end of the tunnel" following years of austerity.
In a low-key spring statement, Mr Hammond resisted pressure for an immediate boost to public service funds from Labour, whose shadow chancellor John McDonnell branded him "complacent" for making hospitals, schools and police wait another eight months for relief.
But the director of the influential Institute for Fiscal Studies think tank, Paul Johnson, said the public finances were still in a "dreadful" state compared to before the referendum vote for Brexit in 2016.
Mr Hammond would face a "sharp choice" in November on whether to ease up on austerity or make a serious effort to fulfil promises to balance the books and was "unlikely to be able to do both".
"Not that much to be Tiggerish about here," said Mr Johnson.
"Growth forecasts dreadful compared with what we thought in March 2016, dreadful by historical standards and dreadful compared with most of the rest of the world."
Meanwhile, the OBR warned the Chancellor is likely to miss his target of returning the public finances to overall balance by the middle of the next decade.
Even achieving balance by 2027/28 would require per capita cuts in spending on services to continue to fall every year in real terms, said the official forecaster.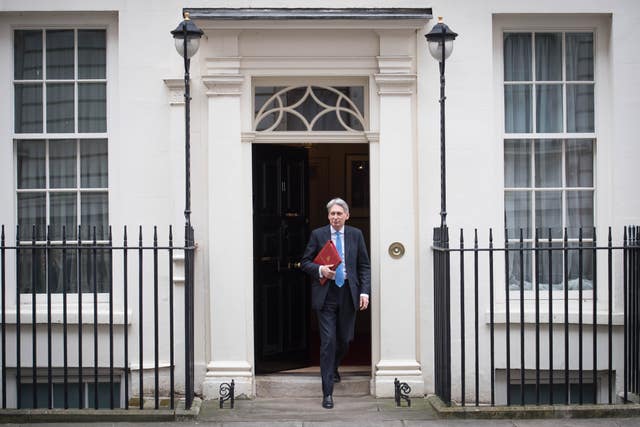 The downgrade to 2017 borrowing figures signalled last month by the OBR came to a smaller-than-expected £4.7 billion, bringing the total down to £45.2 billion.
The Government is set to run a "small" surplus on day-to-day spending in 2018/19, borrowing only for capital investment, said the Chancellor.
The OBR expects Mr Hammond to hit his target of reducing the structural deficit below 2% in 2020/21 with £15.4 billion to spare.
Debt is forecast to be 1% lower than expected at the time of last autumn's Budget, peaking at 85.6% of GDP in 2017/18 before falling gradually to 77.9% in 2022/23.
GDP growth for 2018 was upgraded by a tenth of a percentage point to 1.5% but remains virtually static in following years, at 1.3% in 2019 and 2020, 1.4% in 2021 and 1.5% in 2022, at a time of a swiftly strengthening global economy.
The OECD released figures suggesting that the UK will be bottom of the G20 growth table in both 2018 and 2019, lagging significantly behind the eurozone, partly as a result of uncertainty caused by Brexit.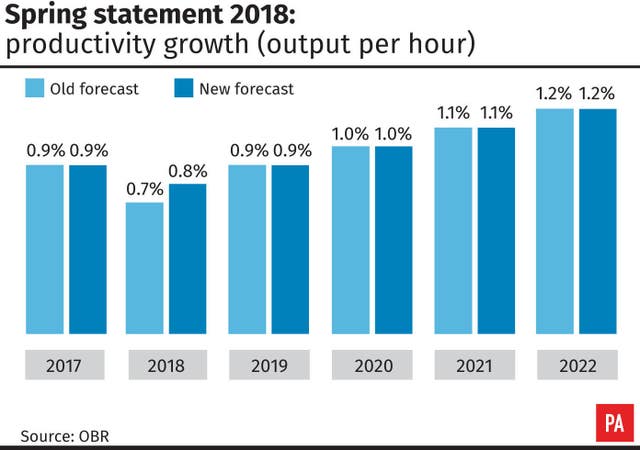 He gave a strong hint that austerity will be eased in November, telling MPs: "If, in the autumn, the public finances continue to reflect the improvements that today's report hints at, then … I would have capacity to enable further increases in public spending and investment in the years ahead while continuing to drive value for money to ensure that not a single penny of precious taxpayers' money is wasted."
A Treasury spokesman later said the Chancellor was unlikely to use all of the £15.4 billion headroom indicated by the OBR figures.
Priorities for any spare money would be to "get the deficit down, keep taxes low and – if there is still flexibility – he has indicated that he would be in a position to do more to support public services", said the spokesman.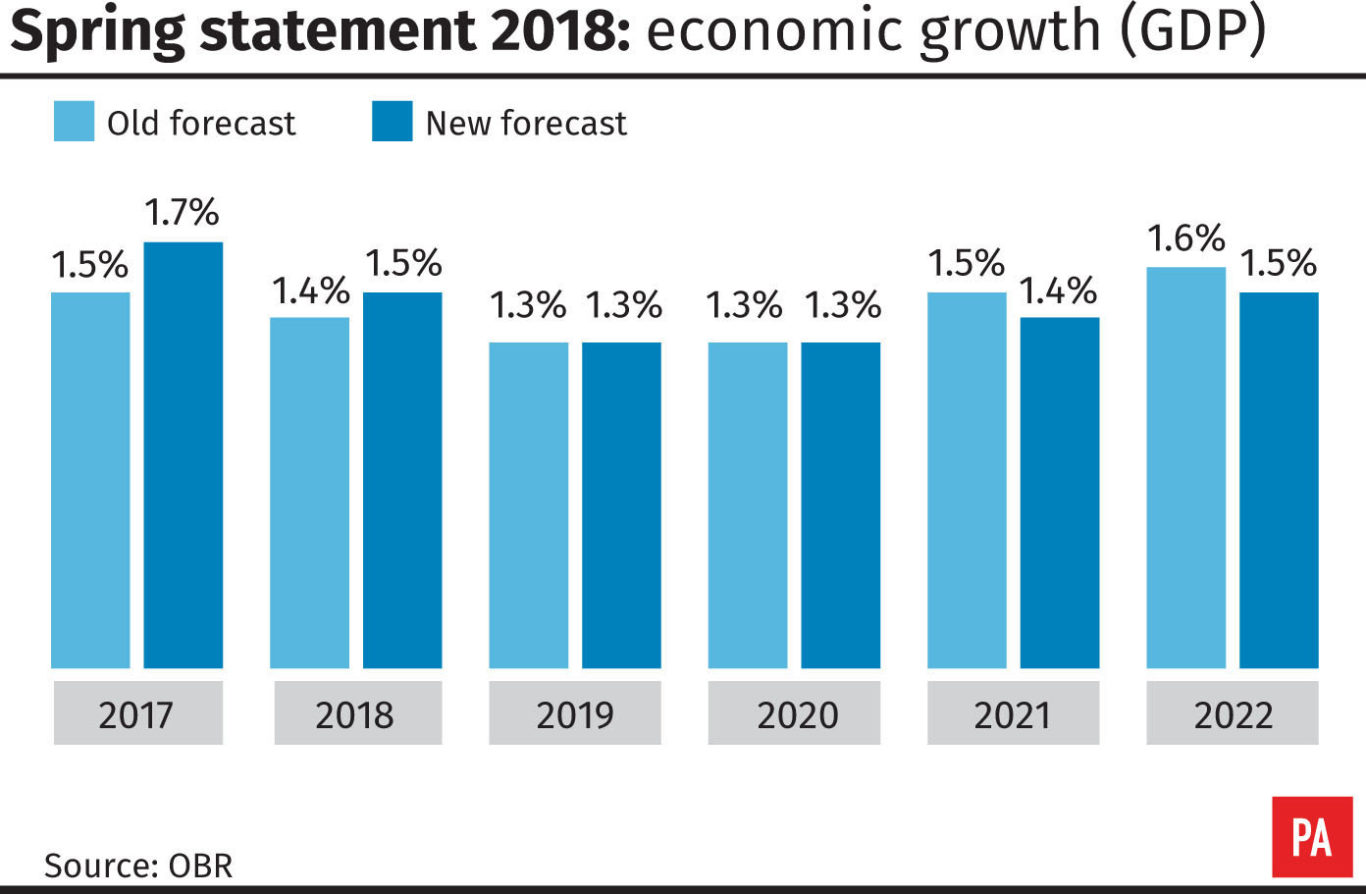 "Hasn't he listened to the doctors and nurses, the teachers, the police officers, the carers and even his own councillors?" asked the shadow chancellor.
"They are telling him they can't wait for the next Budget. They're telling him to act now."
He added: "This isn't a government that's preparing our country for the future. It's a government setting us up to fail."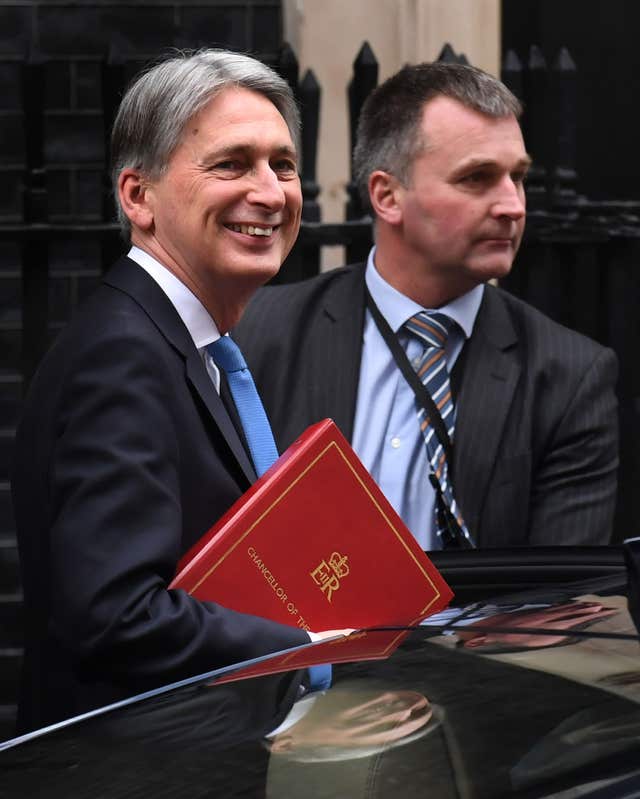 These include studies on:
– The tax framework relating to the giants of the digital economy;
– The future of cash, with a possible death-knell for little-used 1p and 2p coins;
– More frequent revaluation of business rates;
– The impact of VAT on small businesses;
– Cutting plastic waste.