New data unearthed by the Press Association sheds more light on how Twitter accounts linked to the Russian Internet Research Agency regularly tweeted about the UK.
The data shows more than 2,400 tweets about Brexit, the refugee crisis and last year's general election – as well as more mundane British issues – came from at least 154 accounts linked to the Internet Research Agency (IRA), a Kremlin-linked organisation accused of sowing disinformation and discord on social media.
Many of the messages would be simple retweets of news organisations or prominent figures, but Islamophobic and anti-European tweets were commonplace, with many painting the refugee crisis across Europe as a Muslim invasion or sowing division between communities.
The most retweeted message came from the account of @pamela_moore13, which had garnered a large following before being exposed as linked to the Internet Research Agency.
"France is lost," reads the tweet, accompanied by a video. "#French police try to enter a muslim no-go zone. We can not allow this in America!"
Although the tweet is now deleted, many copies exist sent by other accounts on Twitter.
The video shows clashes between police and rioters during the 2014 Sarcelles riots in Paris. It was retweeted more than 6,000 times.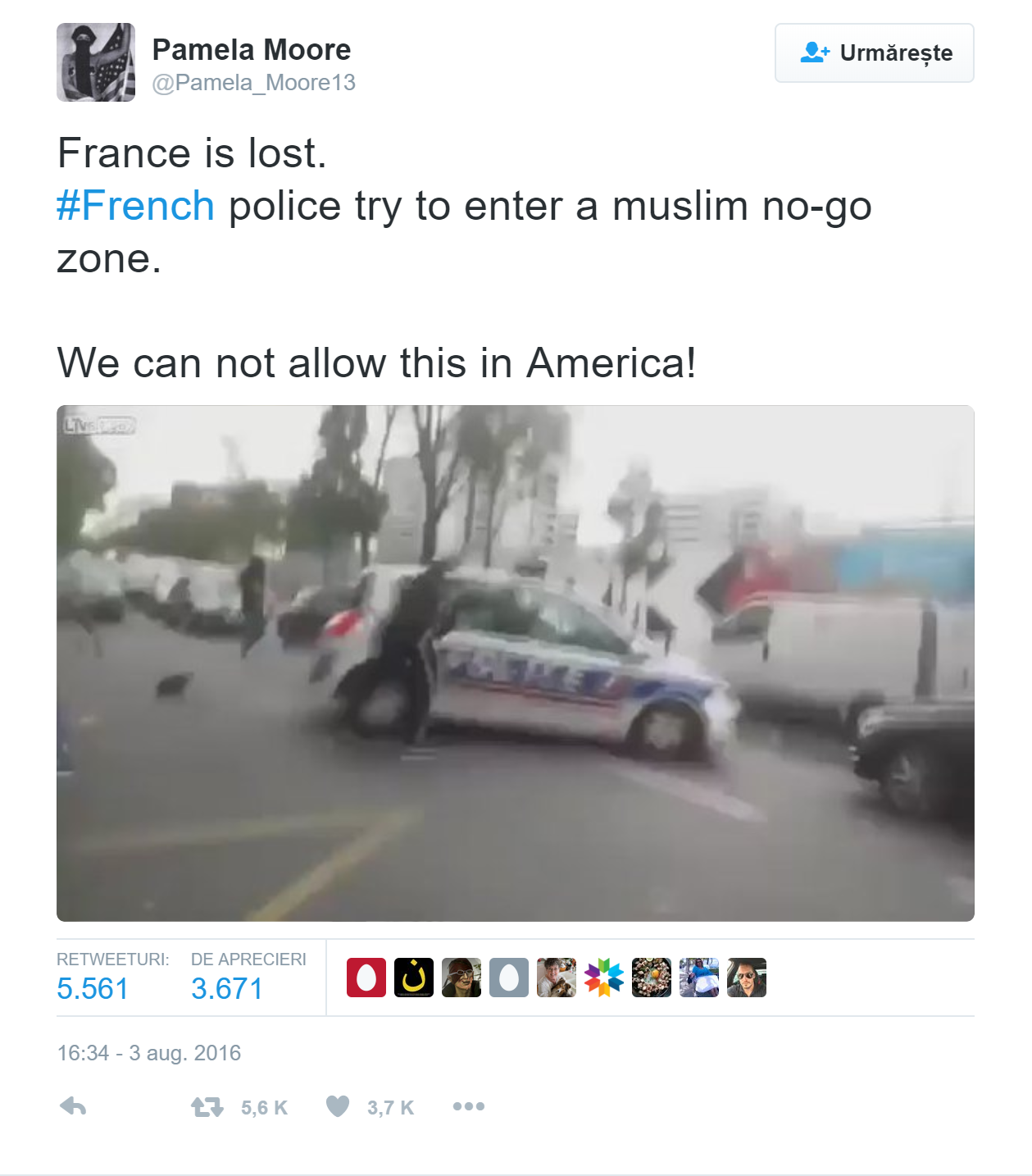 "Historic day!" read one such tweet. "Congratulations, Britain! You're independent! #Brexit #Aticle50 [sic]"
An EU official who tracks Russian information campaigns on social media said the aim of the Internet Research Agency was to "weaken the West – from the top level to the lowest level".
"They are looking for divisive topics," said the source, speaking on condition of anonymity.
"In many countries it will be the migration crisis, as it will polarise the audience and make them more hysterical. So they won't listen to facts but instead listen to emotions."
The second most shared tweet was sent by @jenn_abrams, an account with a similar story to @pamela_moore13, in March 2016, three months before the Brexit vote.
"Migrant kid arrives in Europe," reads the caption, again with a video. "What a polite, peaceful young man! #RefugeesNotWelcome #ReligionsOfPeace"
The short video shows a young boy with brown skin waving and stretching his arms out before dragging his finger across his throat as he walks off screen.
The video comes from a Slovakian TV broadcast about Austrian authorities saving migrants from a van smuggling them across Austria.
The video is captioned "illustration footage". It is not clear whether the video relates to the story itself.
Again, the original tweet has been deleted but many copies still exist, shared by other people online.
All except one of the 10 most shared tweets were Islamophobic or anti-immigration in tone. The tenth was a Nigel Farage quote about Donald Trump.
Five of the most shared tweets came from @ten_gop, a notorious troll account which garnered more than 100,000 followers while it was active.
Previous research found @ten_gop had been central in spreading misinformation about a female Muslim witness to the Westminster terror attack, and the account featured heavily in the data revealed today.
"CULTURAL ENRICHMENT IN LONDONISTAN: 1 dead & 6 injured in terror attack
#RussellSquare #London," reads one tweet from the account, referencing the August 2016 stabbing of six people in London.
Far from being a terror attack, police found the stabbing was carried out by a teenager in the midst of a psychotic episode.
Zakaria Bulhan, a Norwegian national of Somali descent, was detained indefinitely at a mental hospital for the crimes in February 2017.