Benedict Cumberbatch has paid tribute to Professor Stephen Hawking – who he played on-screen – calling the physicist "a true inspiration for me and for millions".
Cumberbatch, 41, starred as Prof Hawking in the first portrayal of the scientist on-screen, before Eddie Redmayne took on the role.
The actor, who played Prof Hawking in the TV film, Hawking, in 2004, said he was "so sad to hear that Stephen has died" and that he will raise a margarita, which they once shared together, "to the stars".
"I feel so lucky to have known such a truly great man who's profundity was found both in his work and the communication of that work. Both in person and in books.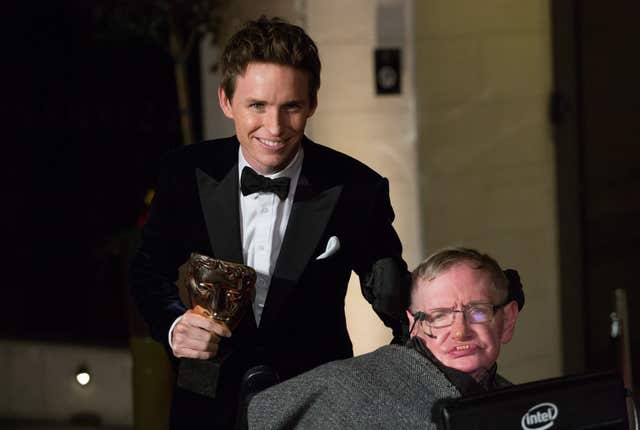 "But truly courageous when considering it was achieved by a man who lived a life trapped in his body from the age of 21 when he was diagnosed with motor neurone disease."
Cumberbatch added: "His support of the sciences, art, education and the NHS and charities such as the MND foundation will also live on, as will his wickedly funny sense of humour.
"I will miss our margaritas but will raise one to the stars to celebrate your life and the light of understanding you shone so brightly on them for the rest of us. You were and are a true inspiration for me and for millions around the world. Thank you."
Fellow actor Redmayne called the physicist, who died aged 76, "the funniest man" he has ever met.
"My love and thoughts are with his extraordinary family."
Prime Minister Theresa May was among others paying tribute to Prof Hawking.
She said: "Professor Stephen Hawking was a brilliant and extraordinary mind – one of the great scientists of his generation.
"His courage, humour and determination to get the most from life was an inspiration. His legacy will not be forgotten."
Scientist and broadcaster Professor Brian Cox told BBC Radio 4's Today programme that Prof Hawking was "one of the greats".
"There are many good theoretical physicists who make a big contribution, but there aren't that many greats," he added.
"And by that I mean that I think there are physicists in a thousand years' time, they will still be talking about Hawking radiation, they will be using his fundamental results on black holes.
"Actually, the last time I saw him at his 75th birthday party, he was talking about the new gravitational wave experiment where we've seen the collisions of black holes, and speculating that those results might be able to prove some of his theorems once and for all.
"Plus his contributions to the physics of the very early universe, so there are at least three and possibly more areas where his work will be remembered as long as there are cosmologists and that's the best you can hope for as a scientist."
Actress and neuroscientist Mayim Bialik, who met and worked with Prof Hawking when he appeared on US sitcom The Big Bang Theory, tweeted: "As we near Pi day (3.14) I join the global community in mourning the loss of the greatest physicist of our era."
Along with a picture of Prof Hawking with the cast of the programme, she added: "#StephenHawking is free from the physical constraints of this earthly condition we all exist in and he is soaring above us now marveling at it all."
The Big Bang Theory's Johnny Galecki wrote on Instagram: "RIP #stephenhawking Not only your brilliance, but your sense of humor will be sorely missed by all."
Physicist James Hartle, whose work with Prof Hawking led to the Hartle-Hawking model of the universe's origins, said his colleague had "inspired a lot of people".
Prof Hartle told BBC Radio 4's Today: "What was unique about him was that he had a marvellous ability to see through all the clutter in physics and to see what the essential points are and that, of course, was a great thing for going forward."
He added: "My memory of him would be on several fronts: first our work together, as a scientist, and second as a human being whose whole story is of triumph over adversity and who inspired a lot of people, including me."
Scottish First Minister Nicola Sturgeon, who was among the politicians sharing tributes, said Prof Hawking had "changed the way we see the universe".
European Council president Donald Tusk tweeted: "'It matters if you just don't give up.' Remembering Stephen Hawking."
Indian prime minister Narendra Modi said Prof Hawking had "made the world a better place" and his death was "anguishing".
"Professor Stephen Hawking was an outstanding scientist and academic. His grit and tenacity inspired people all over the world," a tweet on his page said.
US astrophysicist Neil deGrasse Tyson was one of the first to pay tribute to Prof Hawking. Sharing a photo of himself and Prof Hawking on Twitter, he said the scientist's death has "left an intellectual vacuum in his wake".
He added: "But it's not empty. Think of it as a kind of vacuum energy permeating the fabric of spacetime that defies measure. Stephen Hawking, RIP 1942-2018."
Nasa described Prof Hawking as an "ambassador of science", adding in a tweet: "His theories unlocked a universe of possibilities that we & the world are exploring.
"May you keep flying like superman in microgravity, as you said to astronauts on @Space_Station in 2014."
Greenpeace USA thanked Prof Hawking for helping people understand their place in the universe and for "leaving us in awe and wonder".
Queen guitarist and astrophysicist Brian May said on Instagram that Prof Hawking was "one of the bravest men I ever met – optimistic and caring.
"And all the way, although hampered by being able to communicate at the rate of only two words a minute, still managing to crack gentle jokes, and make incisive comments.
"We at Starmus (the International Festival of Astronomy, Science, Arts and Knowledge) were privileged to spend quiet time with Stephen, and will miss him badly," he said.
"He was without a doubt one of the greatest intellects the world has ever seen."
"He changed the way we perceive our universe, our time and ourselves, and did it with his unique talent of communication and gentle, Hawking-style sense of humour… We will miss his hilarious personality and his outstanding ability to make this world a better place, whatever he did and wherever he happened to be.
"To many of us, Stephen Hawking was a symbol – a symbol of the immense capabilities of the human being, a symbol of never surrendering mind, and of science itself. It strikes us as quite symbolic that he… passed away on Einstein's birthday, and, like Einstein, lived to the age of 76. We will keep this symbol in our hearts and follow the path he craved for us."