Residents of Salisbury are rallying to raise funds for police officer Nick Bailey, who suffered injures as a result of the nerve agent attack last week.
The Wiltshire Police Detective Sergeant, who joined the force in 2002, is conscious in Salisbury District Hospital following the attempted murder of Russian double agent Sergei Skripal and his daughter Yulia.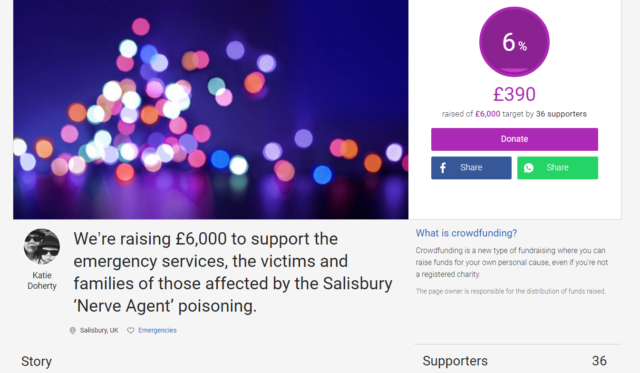 The 33-year-old from East Knoyle, said: "I don't know him myself, but I set up the page before his details had been released.
"I just really felt for him and his family.  At the end of the day he was just out doing his job looking after our community. I appreciate that police are trained for all sorts of situations but I don't think anyone could have expected this," she said.
"Our emergency services and our local hospital do such a great job looking after us and I just wanted to say thank you."
She added that she was aiming to raise £6,000 for the sergeant.
At Wiltshire Council's Bourne Hill office, a cake sale took place to raise funds for DS Bailey.
Writing on Twitter, Wiltshire Police Superintendent Chris Chammings said: "Our amazing Wiltshire Council colleagues are running a cake sale for Nick today. This gesture is true testament to how we all get on in Bourne Hill. Thank you so much."
In a statement released after the attack, the force said DS Bailey "did not consider himself a 'hero', he states he was merely doing his job".