Professor Stephen Hawking was a vocal champion of the NHS who until his final months sparred with the Health Secretary.
The eminent physician's children announced that the "beloved father" and "extraordinary man" died at home in Cambridge in the early hours of Wednesday at the age of 76.
Prof Hawking, who was diagnosed with motor neurone disease in 1962, had recently said he would not have had such a long life without the NHS.
The scientist had warned it was an "attack on the fundamental principles of the NHS" to allow commercial businesses to run parts of the health and social services.
The judicial review into the proposal was expected to take place "as soon as possible" after Wednesday, coincidentally the day he died.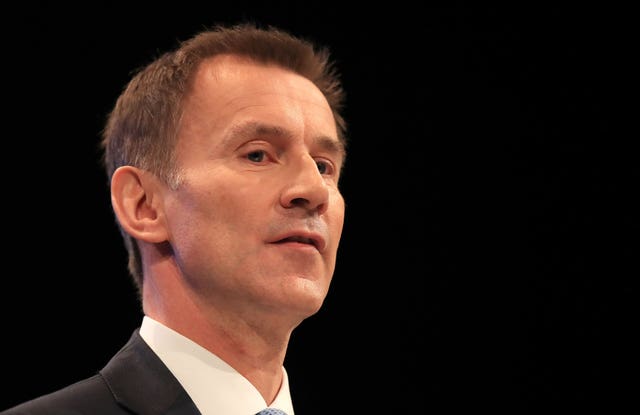 JR4NHS had argued the introduction of accountable care organisations (ACOs) will "Americanise" the NHS.
Prof Hawking, a lifelong Labour supporter, and Conservative Mr Hunt already had a tumultuous history.
In August, the Cambridge University scientist wrote to the Sunday Telegraph saying Mr Hunt's calculations to show Britain was not moving towards a US-style system were "silly".
Mr Hunt shot back writing on The Guardian website that the professor was wrong and tweeted that his claims of a US-style insurance system were a "pernicious falsehood".
"Is it 2 much to ask him to look at evidence?" he added.
Also, in 2016, Prof Hawking and experts such as Professor Robert Winston called for an inquiry into claims made by Mr Hunt, saying he "cherry-picked research, causing a devastating breakdown of trust between government and the medical profession".
Prof Hawking's children, Lucy, Robert and Tim, announced his death, saying: "He was a great scientist and an extraordinary man whose work and legacy will live on for many years.
"His courage and persistence with his brilliance and humour inspired people across the world.
"He once said, 'It would not be much of a universe if it wasn't home to the people you love.' We will miss him forever."
Mr Hunt tweeted: "Stephen Hawking was a defining force in the world of science whose loss will be felt in every corner of the globe.
"I was sad that we didn't agree on everything, but he was still a hero to me as one of our greatest ever thinkers – he inspired with his courage
as well as his words."