A cardboard swastika was found on a windowsill at the barracks home of a serving British soldier accused of being a member of a banned neo-Nazi group, a court has heard.
Private Mark Barrett also had a photograph on his phone, taken at a different military base in the UK, showing a burning cross in a garden.
The 25-year-old married father and Royal Anglian Regiment colleague Lance Corporal Mikko Vehvilainen, 33, are on trial accused of being members of National Action.
A 23-year-old man, who cannot be named for legal reasons, is also charged with membership of the group which was banned by the Government in December 2016.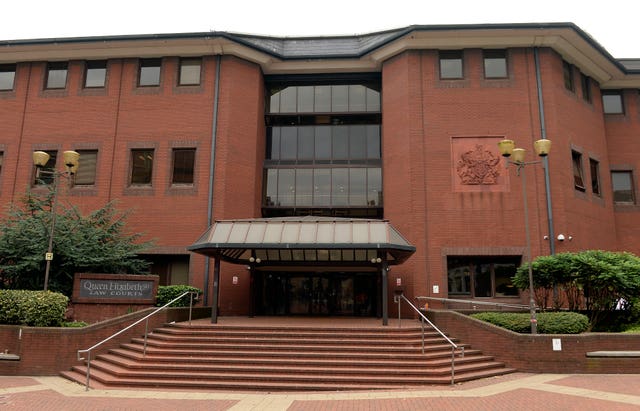 The jury at Birmingham Crown Court on Thursday heard how military and civilian police searched his accommodation at Dhekalia station, Alexander Barracks, Cyprus, in 2017, and found the hand-sized makeshift swastika.
Officers also found a spiral-bound notebook with another swastika on the front, and written in German on an inside page was the phrase "Do not mix the blood of a race horse with that of a cart horse".
Karen Robinson, prosecuting, said: "The page has been signed by Mark Barrett."
Inside a black diary, also found in Barrett's house, was the handwritten phrase: "God almighty created man in the image of a blond-haired, blue-eyed man, with the capability to show rose of cheek (n****rs can't blush)."
Ms Robinson described an image which jurors heard was taken at Kendrew barracks, Rutland, on April 22 2017, and found on a mobile phone seized at Barrett's work station.
She said: "It shows a male pointing a bow and arrow towards a target at the end of the garden, with a burning cross, slightly ahead of him."
The court heard that despite being searched on arrest in Cyprus on September 5 2017, Barrett was given back his wallet after "nothing evidential" was – at that time – found inside, according to officers at the scene.
Barrett then took a bank card from his wallet asked for it and car keys to be be passed to his wife, who was to remain on the base.
RAF police officer Sergeant Christopher Moss, giving evidence on a video-link from the island, said: "He handed me a Santander debit card and car keys so they could be handed to his wife, via a welfare officer."
When the wallet was searched by police back in the UK, two National Action leaflets were discovered inside, the court heard.
Colin Aylott, Barrett's barrister, asked Sgt Moss: "Since you made your statement have you been made aware within the wallet there were, in fact, folded up within it, two National Action leaflets subsequently found in a search of his wallet that took place in the UK?"
The RAF officer replied: "I was not aware at all, no."
Asked how many times Barrett, formerly of Kendrew Barracks, Rutland, had been out of his sight, Cpl Dutton replied: "Impossible to say exactly, but minimal."
Vehvilainen, an Army trainer from Sennybridge Camp, Powys, is also accused of possession of a terrorist manual – the manifesto of Norwegian right-wing extremist Anders Breivik – and two counts of stirring up racial hatred connected to forum posts.
His barrister Pavlos Panayi QC told the jury on Wednesday it was "not in dispute that he is a racist", but that did not make him a criminal.
The other male is also charged with three counts of possession of documents likely to be useful to terrorists and distributing terrorism material.
All three deny wrongdoing, and the trial continues.