Leaders of Britain, the US, Germany and France have issued a joint statement blaming Russia for the Salisbury poison attack.
The four allies said it was "an assault on UK sovereignty" and a breach of international law that "threatens the security of us all".
Mrs May said: "What is important in the international arena – and we have taken this into Nato, into the United Nations, take it through into the European Union – is that allies are standing alongside us and saying this is part of a pattern of activity that we have seen from Russia in their interference, their disruption that they have perpetrated across a number of countries in Europe.
"This happened in the UK but it could have happened anywhere, and we take a united stance against it."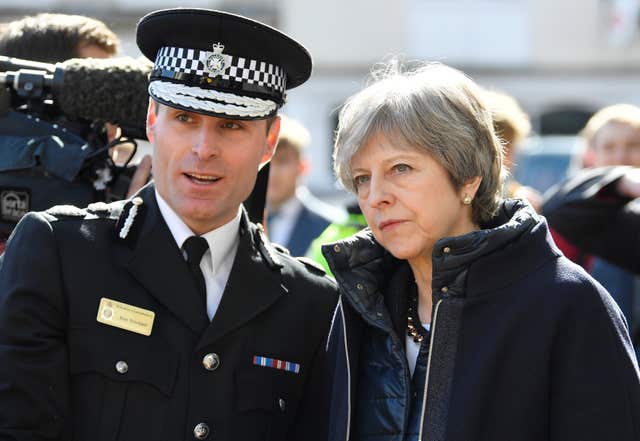 In a joint statement, Mrs May, US President Donald Trump, France's Emmanuel Macron and Germany's Angela Merkel said they "abhor" the poison attack and share the assessment there was "no plausible alternative explanation" other than Russia being responsible.
The leaders called on Moscow to answer all questions about the Salisbury incident and "live up to its responsibilities as a member of the UN Security Council to uphold international peace and security".
"This use of a military-grade nerve agent, of a type developed by Russia, constitutes the first offensive use of a nerve agent in Europe since the Second World War," they said.
"It is an assault on UK sovereignty and any such use by a state party is a clear violation of the Chemical Weapons Convention and a breach of international law. It threatens the security of us all."
Nato states were briefed by UK National Security Adviser Sir Mark Sedwill at a meeting of the North Atlantic Council in Brussels.
The military alliance's secretary general Jens Stoltenberg said the attack took place "against the backdrop of a reckless pattern of Russian behaviour" including its interference in Georgia and Ukraine, and attempts to subvert democratic elections.
"We do not want a new Cold War. And we do not want to be dragged into a new arms race … But let there be no doubt. Nato will defend all allies against any threat."
Russian foreign minister Sergei Lavrov warned Moscow will expel British diplomats "soon" after Mrs May announced the biggest expulsion of Russian embassy staff since the Cold War.
Some 23 diplomats identified as undeclared intelligence officers have been given a week to leave the UK.
Vladimir Putin's spokesman Dmitry Peskov said the final decision on retaliatory measures "will, of course, be made by the Russian president", adding: "There is no doubt that he will choose the variant that best of all corresponds to the interests of the Russian Federation".
Defence Secretary Gavin Williamson said Russia should "should go away and should shut up".
"It is absolutely atrocious and outrageous what Russia did in Salisbury," he said. "We have responded to that.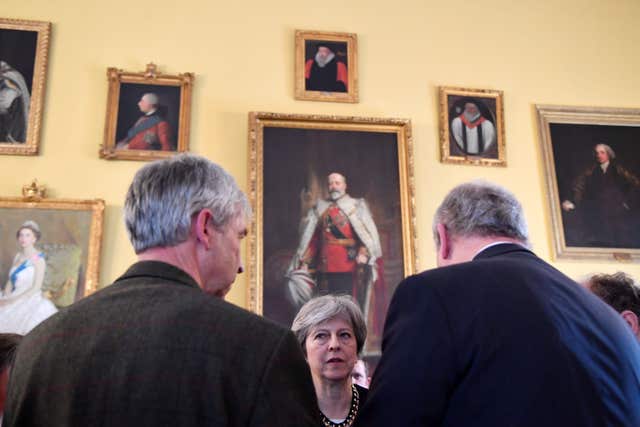 Home Secretary Amber Rudd was chairing a meeting of the Government's Cobra emergencies committee in London to discuss the latest situation.
Environment Secretary Michael Gove led a cross-governmental ministerial recovery group looking at support which will go to the people and city of Salisbury in the aftermath of the incident.
Boris Johnson said the evidence against Moscow was "overwhelming".
The Foreign Secretary said the UK's response means Russia's intelligence capabilities in the country had been "basically eviscerated" for decades.
He confirmed the UK will submit a sample of the nerve agent to the Organisation for Prohibition of Chemical Weapons (OPCW) for it to carry out its own tests.
Mrs May met members of the emergency services and military at Salisbury's Guildhall, including Pc Way and Pc Collins, two Wiltshire Police officers who were first to respond to the emergency call.
Pc Collins told the Prime Minister they had believed the incident was "a routine call".
Mrs May remarked: "You had no idea what you were dealing with. Thank you – what you did was what police do day in and day out.
"A routine call and you don't know what's there. You did a great job."