Prince Harry has been praised by a former head of the Royal Navy for speaking out about cuts to military spending as he presented wings to Army flyers.
Harry highlighted how "budgets are being shrunk" when he visited the home of Army aviation – where he learnt to fly Apache helicopters – to take part in the graduation ceremony.
Former First Sea Lord, Lord West told the Press Association: "Any royal 'stands into danger' when he makes comments that directly relate to political issues. I am delighted he is saying it because it is true."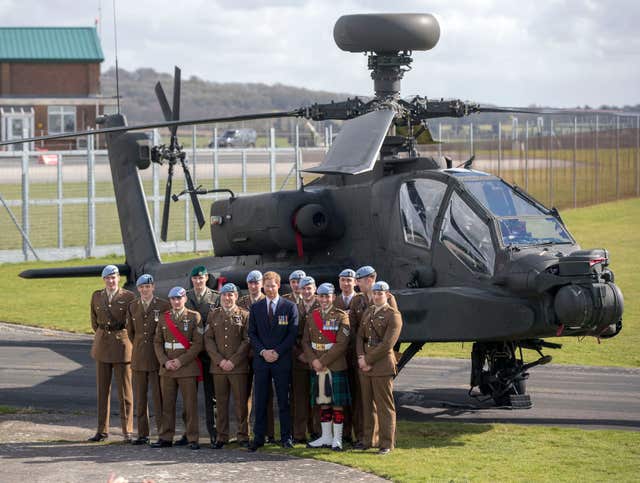 Speaking at the Middle Wallop military base in Hampshire, Harry told the 12 wings recipients, their families and senior military figures from the site: "You're now going to end up flying some of the best aircraft that we have to offer.
"In certain areas budgets are being shrunk, but essentially you guys are the assets, the aircraft is the asset and just don't forget who you're serving and who you're supporting."
In July last year the Government launched a National Security Capability Review but there were concerns it would prioritise measures to counter cyber attacks and terrorism rather than major defence projects.
There were reports that parts of the military faced cuts including the Royal Marines, regular troop numbers and amphibious assault ships.
This was widely seen as the rumoured cuts being put on hold while the future defence capability of the nation was looked at in detail.
Lord West added: "The Modernising Defence Programme instigated by Gavin Williamson will have to come up with more funding for defence."
Harry, a former Army officer for 10 years, also alluded to the issue of reduced resources for the military during a London conference on veterans' mental health on Thursday.
Speaking at King's College London, Harry told delegates: "In an ever-shrinking defence community where every man and woman counts, we must consider that mental health issues are the second highest cause of absence after muscular-skeletal injury."
Liberal Democrat defence spokesman Lord Campbell said in response to Harry's comments: "It may not quite be a royal command but it's as close as you can get.
"Servicemen and women at every level in the forces are well aware of the serious under-funding of the defence budget.
"The Defence Secretary is on record as seeking an increase in his budget but the test of his influence over the Chancellor will be just how much he manages to get."
Outlining his case for a modern defence, Mr Williamson said in a major speech on Thursday: "So our Modernising Defence Programme will give us a more productive, more lethal, harder-hitting Joint Force able to counter conventional threats and deal with the new challenges of asymmetric conflict. Building on our existing plans for the future of our Armed Forces.
"It will balance routine every day capabilities vital to fulfilling day-to-day tasks with highly sophisticated new equipment, using technology and different approaches to counter the full range of threats to our security and to be able to operate freely in all five domains, land, sea, air, space and cyber."