Irish rugby fans are set to descend on London ahead of their side's St Patrick's Day Grand Slam showdown with England.
The capital is expected to be painted green as Ireland's most fearsome 15 bid for a place in Irish folklore in the Six Nations at Twickenham on Saturday.
Ireland has already won the Six Nations – their third in five years – but will be hoping to secure a sweet victory over England to cement their third ever Grand Slam.
Fans are gearing up for a memorable St Patrick's Day weekend in London with some starting the celebrations early on Friday.
"We're looking forward to tomorrow.
"We've got about 70 kegs ready for the weekend actually."
Mr Taylor said his loyalties are split as despite being an Englishman he wants to see Ireland clinch the Grand Slam.
"I will be wearing a split shirt tomorrow – an English jersey and an Irish jersey in one," he said.
Sandra Truesdale, 36, from Roscrea in County Tipperary, was having an early tipple in The Toucan to kick off the weekend.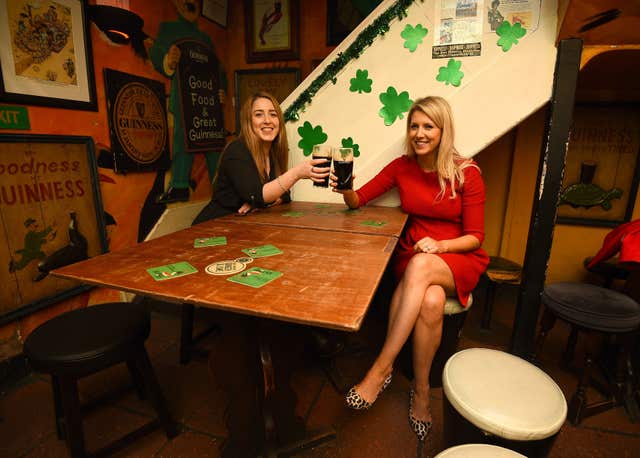 "I did think, imagine if it came down to the Grand Slam that it was Ireland versus England, and that it was played on Paddy's Day, in London.
"I thought I was only joking, but it did, it came true," she said.
Her friend Martha Farrell, 29, from Roscommon, said she is watching the match with a few English people "which is going to make it even more entertaining".
Tickets for the match have been like gold dust, with many fans expected to pour into London's pubs for the historic game.
Jim Irwin, 58, and Stephen Revels, 63, both from Newry, County Down, flew into Heathrow Airport on Friday morning with two other friends.
Mr Revels' confidence of an Irish win is sky high: "It's a done deal."
Mr Irwin said they had taken the day off work for the festivities, adding: "There will be nothing to match it. It will be brilliant."
Suzie Crawford, 28, from Holywood, County Down, said she is looking forward to the atmosphere.
Ms Crawford, who lives and works in the capital, said: "I think the fact it's St Patrick's Day and the fact Ireland are playing so well … It will be exciting to see it all play out."
Kevin McCabe, 31, from Knockcroghery in County Roscommon, is over for the weekend to join his cousin for the celebrations.
"It will be great for the country. It will be brilliant. It will be great to see Ireland win it.
"They've come this far, and to beat the English… it will be brilliant," he said.
His cousin Alex McCabe, 29, lives in Slough, but his roots mean he is hoping for an Irish triumph.
"In my house it was never about England anyway because both my parents are Irish, so it's always been Ireland for me," he said.
Mr McCabe said he is aware of tickets going for up to £15,000.
"That's a lot of shilling," he said.
Ciaran O'Donnell, 25, from Mullingar in County Westmeath, flew into London on Friday morning with a group of friends and they came straight to O'Neill's pub.
"We're looking forward to tomorrow, to win the Grand Slam and to beat the English," he said.
Cormac Donegan, 27, from Moynalty in County Meath, said he has no worries about who will win.
Mr Donegan, who plays rugby in the Leinster league, said: "I would have no qualms about the English side."
Jacqui Cromwell, 39, who is originally from Belfast but lives in County Meath, is in London with her husband Joey, hoping they can get tickets to the match to celebrate their wedding anniversary.
The pair are marking six years of marriage and are desperate to be in the stadium to see the game, but time is running out.
"We're big rugby fans. We're hoping and trying. We're running around everywhere," she said, adding that they will "pay whatever the cost is".
Mrs Cromwell said she "can't wait" to spend her wedding anniversary watching Ireland win the Grand Slam against England.
Con Cadogan, 55, from Cork, who was sitting near the Cromwell couple in Waxy's Little Sister, is lucky enough to have a coveted ticket and has faith in Ireland's chances.
"You can see that they're very focused. They're not going to let it slip easy I think.
"They're going into it knowing and fully committed to the challenge that they have to meet," he said.
Mr Cadogan said he and his group of 10 found it extremely difficult to get tickets.
"It's the hardest I've ever seen to get tickets," he said.