A woman who says she was the "secret wife" of the late King Fahd of Saudi Arabia will not receive a penny from one of his sons – despite a High Court judge ruling the prince agreed to give her more than £15 million.
Mr Justice Arnold found Palestinian-born Janan Harb, 70, reached an agreement with Prince Abdul Aziz during a 2003 meeting at London's Dorchester Hotel, while the king was gravely ill.
The judge said it was "probable" the prince "swore an oath" to pay Ms Harb £12 million and transfer to her two luxury flats, worth £1.8 million each, in return for her silence about her relationship with the king.
But he ruled on Friday the agreement was "not enforceable", denying Ms Harb a payout she has been fighting to secure through the courts for 14 years.
She was previously awarded the money and properties following a High Court trial in 2015, but that ruling was overturned on appeal and a re-trial ordered.
She said the pair married in secret in 1968 because she was a Christian, although she had converted to Islam shortly before their wedding, but the marriage was never made public in Saudi Arabia for  "cultural and political reasons".
During their marriage, she claimed, she terminated three pregnancies at the insistence of the king – who was then a prince and his country's minister for the interior.
Ms Harb said she was banished from Saudi Arabia in 1970 by members of the king's family who "wrongly" blamed her for him becoming addicted to methadone after he received an injection to treat stomach pains during a trip the pair made to London in 1968.
Believing their marriage was over, she went on to have two further marriages, both of which ended in divorce, and had two daughters.
She said in evidence that, after they separated, the king promised to provide for her financially for the rest of her life and she received a number of substantial payments over the years.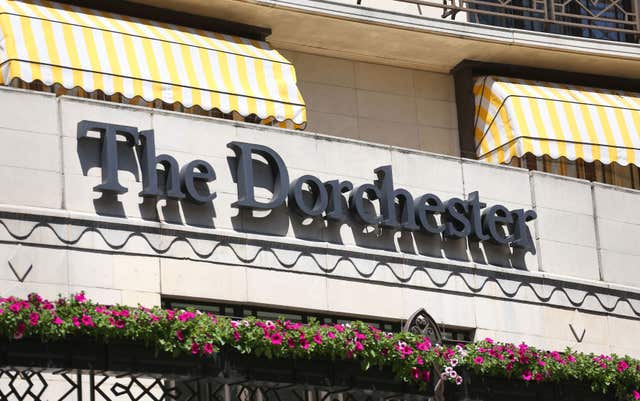 During their meeting at the Dorchester, she said Prince Abdul Aziz – whom she believed was acting as his father's representative after the king suffered a stroke – agreed to pay her £12 million and transfer back to her two flats in Pier House, Cheyne Walk, Chelsea.
Ms Harb had previously requested the £12 million in a letter as "full and final settlement of all promises" made to her by the king, in view of their "sacred past" together.
In return, she said she agreed to publicly retract statements she had made about the king about aspects of their life together, including his methadone addiction, and to hand over photographs and other items.
She also said she agreed to keep confidential information about her relationship with the king and not to publish her memoirs – although she has since written and published two versions of an autobiography.
The prince, son of another wife of the king, accepted his father and Ms Harb had a relationship but "did not accept the accuracy of her evidence" and denied they had reached an agreement at the Dorchester Hotel.
He did not attend the trial in London to give evidence, as he was "forbidden" from doing so by the Saudi Arabian government, but instead sent written statements to the court.
In his written ruling, Mr Justice Arnold found there was an agreement by the prince to pay the money, but that Ms Harb could not enforce it because was not made clear at the time what she must do to keep her end of the bargain.
He added: "I conclude that Ms Harb did reach an agreement with the prince on June 20 2003, but that the agreement is not enforceable either because it was not intended to be immediately binding or because it was too uncertain to be enforceable."