The UK could decide not to impose border checks after Brexit if it fails to reach a customs agreement with the European Union under plans reportedly being considered in Whitehall.
Amid concerns about tailbacks and hold-ups at major ports – and the thorny issue of the Northern Irish border – officials are reported to have discussed the option of not applying checks to enable trade to flow smoothly.
The Government said it had set out its aim for a deal with Brussels which would make trade "as frictionless as possible" but added "we have a duty to plan for the alternative".
Border operators have been involved in talks with officials – covered by a non-disclosure agreement to maintain confidentiality – about the arrangements which could apply after Brexit, Sky News reported.
The scenarios have been broadly interpreted by the industry as "hard Brexit", "soft Brexit" and "no deal".
If there was no deal with the EU "this is what we call the 'throw open the borders option'", said one operator.
Under that scenario the UK would unilaterally decide not to enforce customs checks, and other border checks – assuming that the EU would follow suit – temporarily maintaining frictionless trade, Sky reported.
Meanwhile Transport Secretary Chris Grayling said there would be no checks on lorries arriving at Dover – and suggested that trade would flow seamlessly after Brexit.
"We will maintain a free-flowing border at Dover, we will not impose checks in the port," he said on BBC's Question Time.
"It is utterly unrealistic to do so, we don't check lorries now, we are not going to be checking lorries in Dover in the future. I'm absolutely clear it cannot happen."
There would be no "hard border" in Dover, he said, adding: "Goods flow through borders almost seamlessly around the world anyway.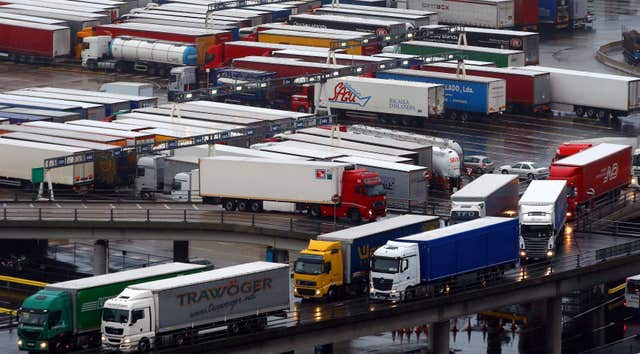 The Government has set out two plans to deal with the issue – a "highly streamlined customs arrangement" between the UK and EU to minimise red tape or a "new customs partnership" to avoid the need for a customs border.
The Department for Exiting the European Union said: "We want to have a customs arrangement that ensures trade with the EU is as frictionless as possible, and we have set out our two preferred models in our customs future partnership paper.
"In relation to Northern Ireland and Ireland, both the UK and the EU have also been clear there will not be any physical border infrastructure.
"It is in everyone's interests to secure a good deal for both sides and we think that is by far and away the highest probability, but we have a duty to plan for the alternative.
"That is common sense."
Labour MP Chuka Umunna, who supports the Open Britain campaign against a hard Brexit, said: "It is extraordinary that a Government that says it aims to 'take back control' has admitted it is not even going to try to control the transfer of goods across our borders.
"This is another broken promise from the referendum, but it is the most serious yet.
"If it becomes a 'third country' outside the EU's Customs Union, the UK will almost certainly be under legal obligations to mount customs checks at its border, but Chris Grayling and other ministers are simply saying they will ignore the law and any obligations."
Theresa May will head to Brussels next week for a major summit where she hopes to get agreement on a transitional period and the formal start to trade talks.
European Commission president Jean-Claude Juncker spoke to her on Thursday night about the forthcoming meeting.