More snow has fallen across parts of the UK overnight as a cold snap dubbed the "mini beast from the east" sweeps in.
Forecasters said much of eastern England and Scotland had seen a smattering of the white stuff during the night, with the snowfall moving westwards towards the Midlands and Wales.
Most places are likely to see some wintry showers by the end of the day, with gusty winds bringing bitterly cold temperatures.
An amber weather warning for snow and ice is in place across north-west England, Yorkshire and the Midlands, as well as in London, the South East, and east of England, from 4pm on Saturday until 9am on Sunday.
And a yellow warning for snow and ice in force for the entire day covers nearly the whole of Britain.
"There are some very strong winds, meaning it could feel as low as minus 7 or minus 8 for some people."
Sunday is also likely to see further snow, especially for parts of the South West, where as much as 25cm could fall on higher ground.
"Even at lower levels we could see 5-10cm or even 10-15cm," said Mr Burkhill.
"It's not common for these areas to see this type of snow – it won't be the same amount we saw a few weeks ago, but it is still likely to be enough to cause some problems."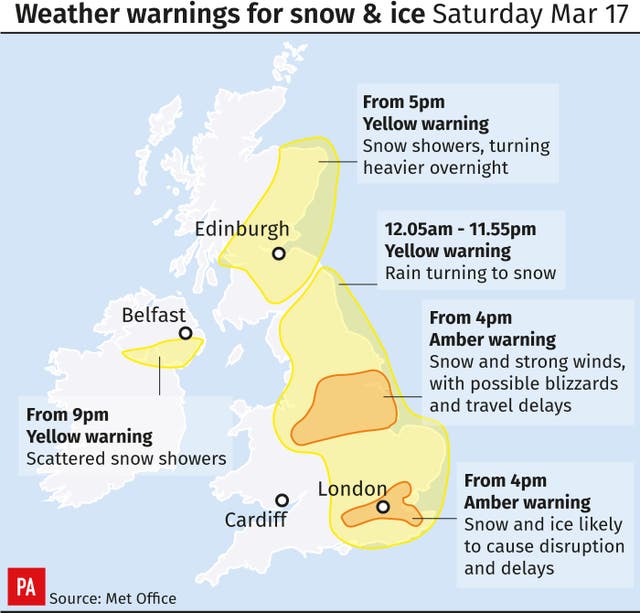 Drivers have also been urged to be prepared before setting out on journeys this weekend, with Highways England advising motorists to avoid trans-Pennine roads "if possible".
The cold weather should only last a few days though – by Tuesday, temperatures will be getting back to average for the time of year.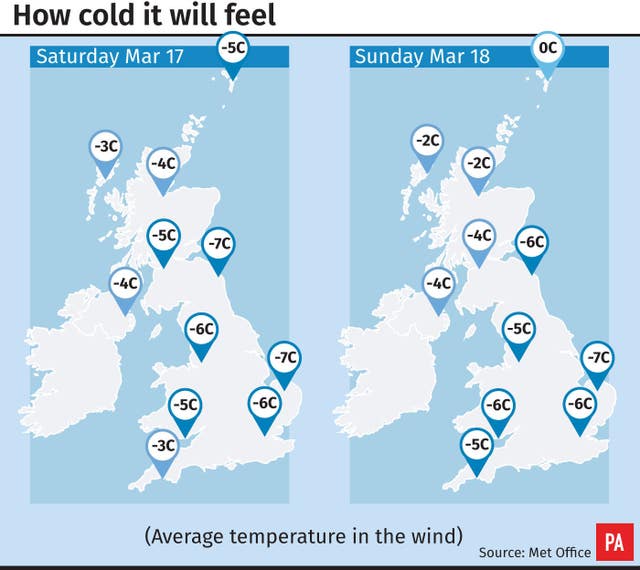 He said: "We don't expect anything like the same impact as a result of it, although there will be some snow about."