The minister who tended to a mortally wounded police officer at the climax of the Westminster Bridge attack has described how the killing still "haunts" him.
Tobias Ellwood was hailed a hero for rushing to the side of fallen constable Keith Palmer after a knife-wielding jihadist stormed the Parliamentary estate last March.
Khalid Masood murdered five people during the rampage, including the 48-year-old officer, whom he stabbed at the Palace of Westminster's gates.
A picture of the defence minister – his face mottled with blood – trying to save the dying Pc Palmer was one of the day's defining images.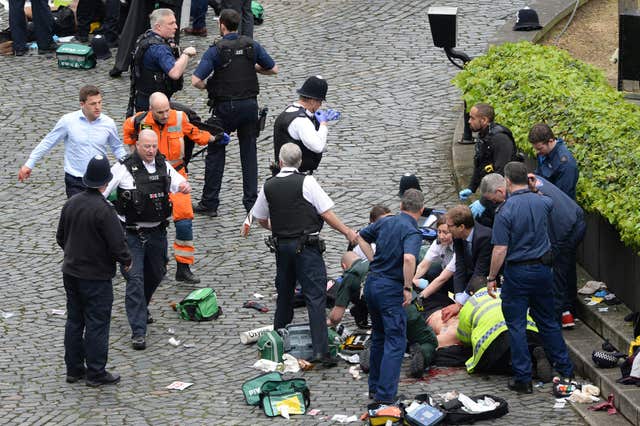 He told the Sunday Times: "He was alive when I arrived on the scene. That's what haunts me… when I arrived he was alive and there was a pulse and when I left there wasn't."
"I didn't succeed that day and I have to live with that every day," he added.
"I still rack my brains about what more we could have done."
On March 22, the horror unfolded closer to home – just yards from his place of work.
Masood had accelerated through pedestrians on Westminster Bridge before darting to the carriage gates of Parliament, armed with two knives.
Here he encountered PC Palmer – and dealt him a knife wound to the neck and torso.
The killer was then shot dead in a hail of police gunfire.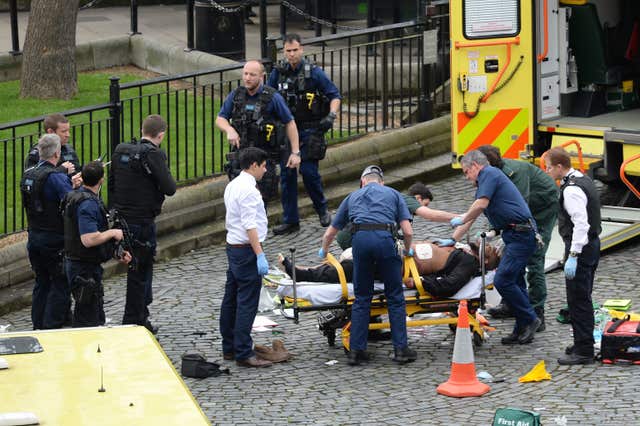 He said: "I vividly remember the quietness in contrast to the usual busyness, then the helicopter landing, which was really noisy. And then the guys in red turned up — the ones with 'doctor' on their uniform — a huge relief.
"I expected the helicopter to take him away, but clearly they needed to stabilise him before they could move him. I expected at that point to be told to move away, but I was instead told to continue with compressions."
He added: "I didn't know when to stop, even when the doctor said he thought we had done everything we could do for him. I said, 'You are going to have to tell me to stop because I am delivering the oxygen to his brain'. And he looked at me and called the time of death and said, 'Thank you. We have done all we can'. And then, as the true professionals they are, they picked up all their things and went to help the people on Westminster Bridge."
The 62-year-old grandfather from Stevenage, Hertfordshire, had been run down by Masood on the bridge, suffering a snapped vertebrae, broken right arm and smashed left leg.
He told The Sun on Sunday: "The night before the attack I was discussing with my wife Linda how rough my last year had been with all the people close to me who had died.
"Linda told me things would soon get back to normal and I thought, 'You're right, things can't get much worse'. The next day, I get whacked by a terrorist.
"He hit me at 76mph in a 4×4 and I'm still alive. I'm living proof Masood and his hate didn't win.
"My life has been changed for ever by what he did but I try never to think of one evil man. Instead, I focus on the dozens of brilliant people who helped me."