The Bank of England is expected to keep interest rates unchanged at 0.5% next week, but the meeting will be watched closely amid expectations over another hike in May.
Governor Mark Carney has already warned borrowers that rates will need to rise "somewhat earlier and by a somewhat greater degree" to get inflation back on target after stronger-than-expected growth in the economy.
Experts believe the comments last month paved the way for another quarter point rate rise as soon as May, with one more due by the end of the year, and another in 2019, which would see rates climb to 1.25%.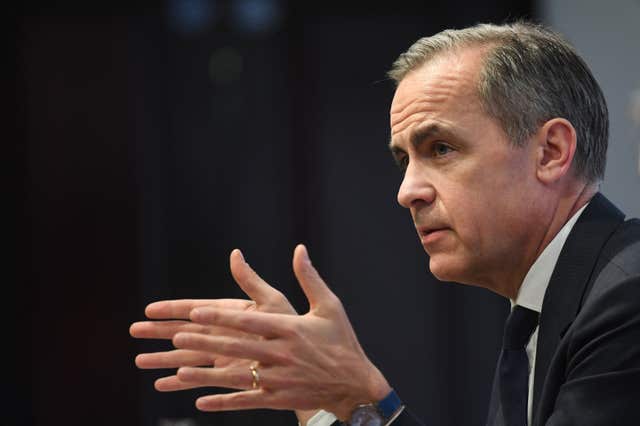 Investec economist Philip Shaw said that some of the nine policymakers on the MPC may even call for an immediate 0.25% rise.
"Although the MPC will most likely stand pat next week, we would not be surprised to see some dissent on rates, with one, or even perhaps two, members backing an immediate 25 basis point hike in the Bank rate," he said.
Likely candidates are Ian McCafferty, Michael Saunders or Andy Haldane, according to Mr Shaw.
"This should smooth the way for the committee to make a move on rates in May, as long as this is still warranted by the economic data," he said.
Official inflation figures are also out next week and Investec predicts they could see the Consumer Prices Index dip to 2.7% in February from 3% in January.
But Mr Shaw said this would be unlikely to dent the MPC's view that more rate hikes are needed.
Samuel Tombs, chief UK economist at Pantheon Macroeconomics, is pencilling in an easing of inflation to 2.8% off the back of falling oil prices.
He said: "The fall in oil prices to 65 US dollars, from 70 US dollars in early February, has increased the chances that inflation undershoots the MPC's forecast over the coming months."
However, the meeting comes amid signs that the economy is struggling to pick up pace.
Official figures showed the economy grew by less than previously thought, up by 0.4% in the final quarter of 2017 against the 0.5% initial estimate.
This means it has remained in line with the 0.4% seen in the previous quarter, while experts are pencilling in 0.4% again in the first quarter of 2018 as construction and manufacturing sectors struggle.
Recent industry surveys showed the manufacturing industry drifted to an eight-month low in February, while the construction sector remains under
pressure from weak confidence and political uncertainty.
The powerhouse services sector continues to be a bright spot, unexpectedly reaching a four-month high in February, according to the most recent purchasing managers' index.
Chris Williamson, IHS Markit's chief business economist, said the services sector boost keeps a May interest rate hike from the Bank of England "very much in play".
Meanwhile, the Office for Budget Responsibility hiked its outlook for economic growth this year – to 1.5%, from 1.4% previously predicted – in its Spring Statement forecasts.
It also said it believed inflation would fall back to the Bank's 2% target this year.
The Bank is more upbeat on the growth outlook, pencilling in 1.8% expansion this year, although it is not so cheery on the path of inflation.
It said in its February report that rising oil prices would keep inflation above 3% in the short-term and see it take longer to return to target.