Channel 4 has revealed that it has a gender pay gap among its staff of 28.6%, a statistic the broadcaster's chief executive said made for "uncomfortable reading".
The reveal comes less than a week after media company ITN, which makes daily news programmes for ITV, Channel 4 and Channel 5, revealed it has a pay gap of 19.6%.
Channel 4's gender pay gap is more than 10% above the national average of 17.4%, despite its workforce being comprised of 59% women.
The equivalent statistic published by the BBC for its gender pay gap was revealed to be 10.7%.
The broadcaster also announced it has a bonus gap of 47.6%, compared to ITN's bonus gap of 77.2%.
Channel 4 said that the discrepancy in pay between the genders is down to there being a large number of women in the lower two quartiles at the organisation, and the majority of positions in the highest-paid quartile being filled by men.
The channel's chief executive Alex Mahon said in the foreword of the pay report, published on Monday, that she is "determined to take action to address" the gap.
"There is no quick fix, but identifying the complex and multiple reasons behind our gap is the first step towards tackling the fundamental issues at play," she said.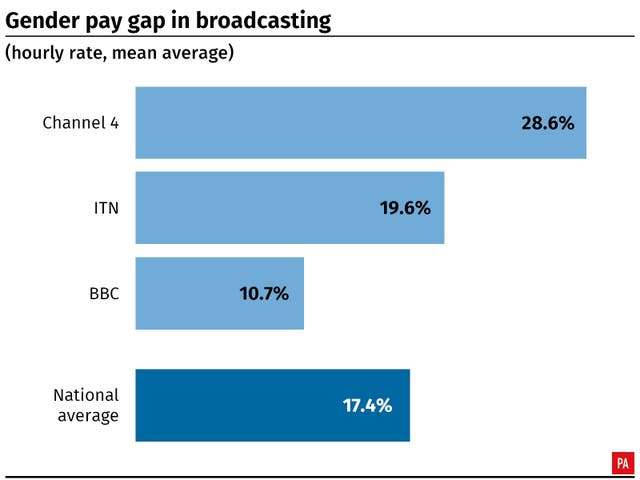 "We have more men in higher-paid roles, and more women in lower-paid roles."
She continued: "It would be perverse for us to reduce the number of women in lower-paid roles and we want to continue to be an attractive place for women to work."
Ms Mahon said the broadcaster needs to reduce the gap by "focusing on increasing the proportion of women in higher-paid roles".
She said that Channel 4 is "setting out the strategy to achieve that, with a goal of a 50:50 gender balance in the top 100 earners by 2023."
Channel 4 said that it employs a higher number of women than other UK public service broadcasters, and in its report said that ITV's workforce is comprised of 52% women, the BBC's is 47% women and Sky's is 42% women.
Broadcasters including ITV and Channel 5 have yet to publish details of their pay gaps.
The gender pay gap has been in the headlines since the salaries of top BBC talent were revealed.
Radio 2's Chris Evans topped the list on more than £2 million, while the highest paid woman was Claudia Winkleman on between £450,000 and £499,999.
A review, carried out by PricewaterhouseCoopers, said there was a "lack of clarity and openness about the basis for pay decisions" at the BBC.
It found "no evidence of gender bias in pay decision-making", although BBC Women, a group that includes presenters such as Jane Garvey, Mishal Husain and Victoria Derbyshire, have rejected the on-air review.
The BBC's former China editor Carrie Gracie resigned from her role in protest at inequalities.