Thirteen homes on sandy cliffs have been evacuated amid fears they could topple into the sea, with a further two days of high tides and strong winds forecast.
The residents of the properties in Hemsby, Norfolk, were forced to leave over the weekend, Great Yarmouth Borough Council said.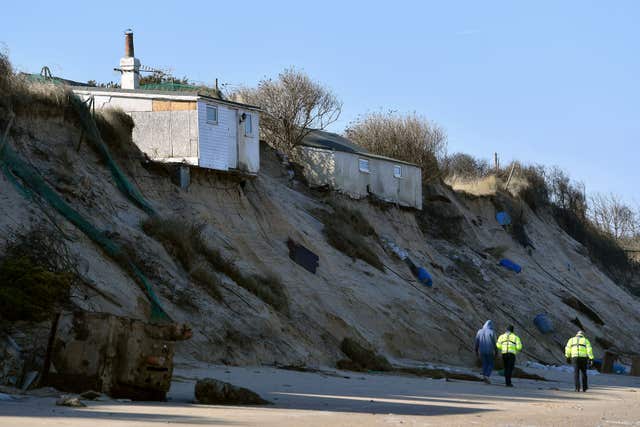 Jan Davies, head of resilience for Norfolk County Council, said on Monday: "Further high tides and strong winds are forecast for at least the next 48 hours.
"As the sand dries out and becomes more powdery, over the next week the dunes will start to settle and adjust, meaning the risk of properties sliding down the cliffs remains very high."
Graham Plant, leader of Great Yarmouth Borough Council, said: "This has been a frightening weekend for the residents of Hemsby, who have pulled together once again to help their friends and neighbours to evacuate their properties.
"We have tried and tested plans in place for emergencies such as these, which means people can be evacuated quickly and we can make sure that there is food and shelter for those who need it.
"Huge thanks must also go to local people and local businesses who have offered food, accommodation, removal services and safe havens for those who have had to leave their homes."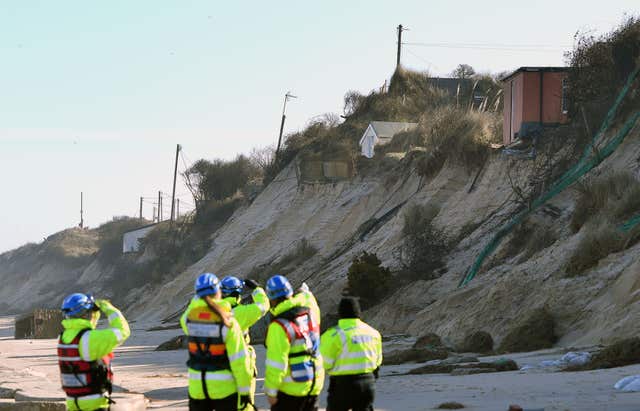 The village has been vulnerable to coastal erosion before.
In December 2013, devastated residents watched their cliff-top homes disappear into the sea during a tidal surge.
Five bungalows fell into the water as the high tide eroded the cliff below.