The Conservatives outspent Labour by more than £7.5 million in the 12 months to last year's general election, according to figures released by the official elections watchdog.
The Electoral Commission said the Tories, who lost their overall Commons majority, reported spending of £18,565,102 in the regulated period running from June 9 2016 to polling day on June 8 2017.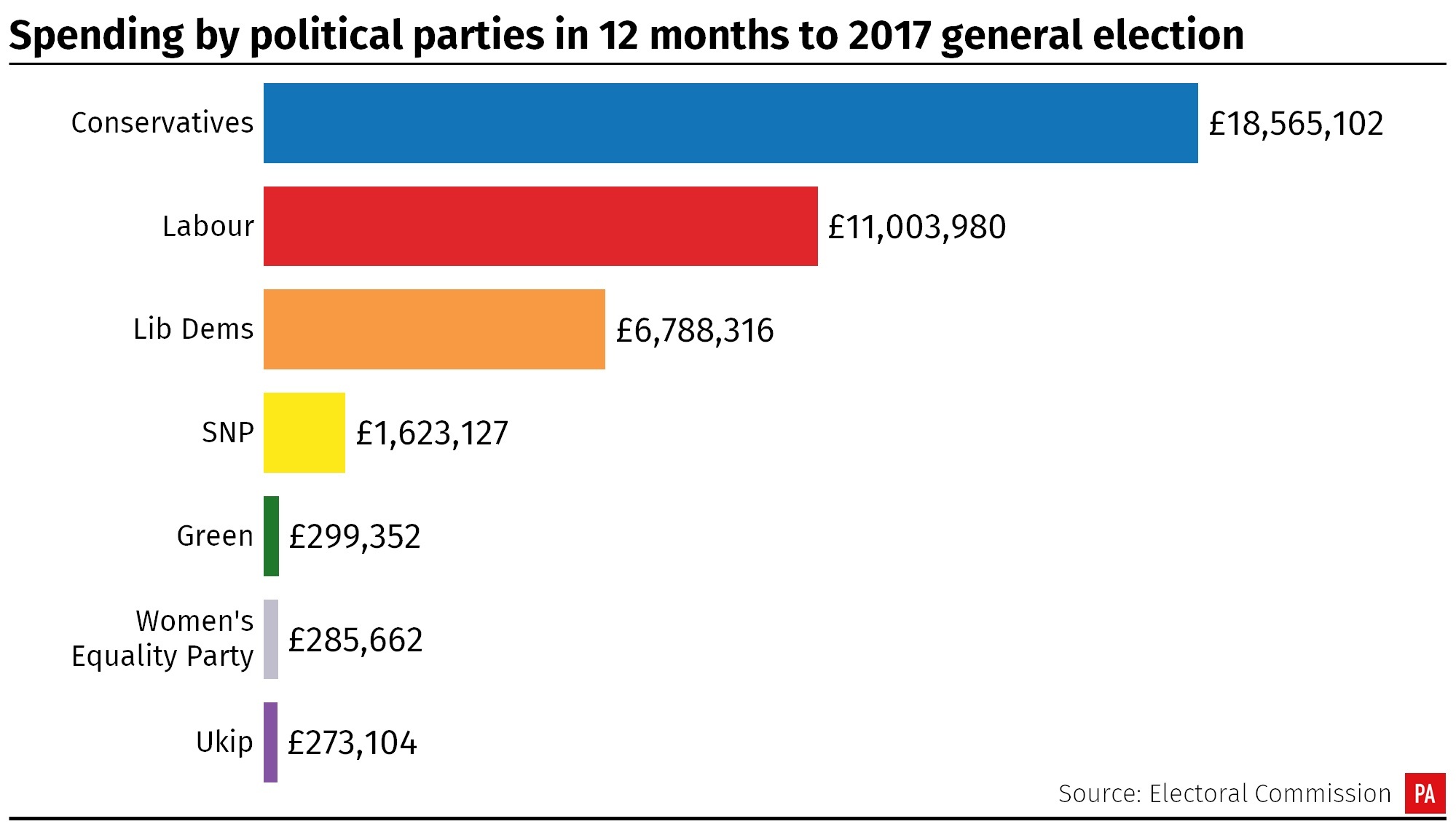 The Commission said both main parties, along with the Green Party, were now facing investigation for submitting spending returns that were missing invoices and for "potentially inaccurate statements of payments made".
The Conservatives, together with the Liberal Democrats, are also under investigation for making multiple payments to suppliers where either the claim for payment was received after the 30 day deadline or was paid after the 60 day deadline following the election.
In addition, the commission said the Women's Equality Party was being investigated for submitting a spending return that was "inconsistent with its donation reports" for the period.
In all, seven parties reported spending more than £250,000 during the regulated period, with the Lib Dems spending £6,788,316, the SNP £1,623,127, the Greens £299,352, the Women's Equality Party £285,662 and Ukip £273,104.
In addition, two non-party campaign groups spent more than £250,000, with the anti-Brexit Best for Britain group reporting £353,118 and the National Union of Teachers (NUT) £326,306.
Best for Britain is being investigated by the commission for submitting a return with invoices missing and for failing to return a donation from an impermissible donor within 30 days, while the NUT is also under investigation over a missing invoice.
Bob Posner, the commission's director of political finance and regulation, said: "It is vital that voters are given an opportunity to see accurate and full reportable data on what parties and campaigners spent money on in order to influence them at last year's general election.
"This provides transparency in the political finance system and is open for anyone to scrutinise.
"We are investigating possible breaches of the rules.
"However, our on-going discussions with the major parties indicate to us that they may wish to consider the robustness of their internal governance and level of resourcing to ensure they can deliver what the law requires."