One in five local roads is in a poor condition as councils face a huge funding deficit to tackle potholes, according to a new report.
Some 20% of carriageways in England and Wales have less than five years of life remaining before they become unusable, researchers said.
This represents more than 40,000 miles of carriageways.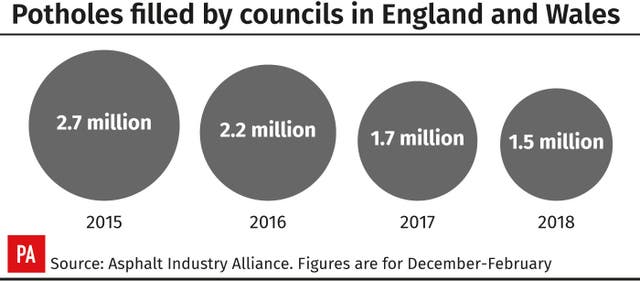 The report found the gap between the amount local authorities in England and Wales received to keep carriageways in "reasonable order" and what they actually needed was £556 million in 2017/18.
AIA chairman Rick Green warned that the deterioration of local roads "continues to accelerate" because maintenance funding has "fallen short for so many years".
He accepted that the Government does not have a "bottomless pot of money" but called on it to "provide adequate funding for a well maintained and safe local road network".
Martin Tett, the Local Government Association's transport spokesman, said the amount of money spent on local roads is "miles behind" what is allocated to motorways and major A-roads.
He added: "Very few journeys begin and end on a motorway or trunk road yet government funding on the strategic road network is 52 times higher than for local roads".
Motoring groups claimed the AIA report shows a new approach is needed to combat potholes.
RAC head of roads policy Nicholas Lyes called on the Government to provide councils with "the certainty of reliable long-term funding" so they can finally bring every road up to a standard road users think is acceptable.
Councils filled 1.5 million potholes in the past year, continuing the recent downward trend from a high of 2.7 million in 2015.
Since 2007, defective road surfaces have contributed to 22 cyclist deaths and 368 serious injuries.
AA president Edmund King said: "The danger faced by vulnerable road users and the threat of damage to cars never seems to recede."