Boris Johnson has compared Russia's forthcoming World Cup to Hitler's notorious Berlin Olympics in a fresh escalation in the war of words over the Salisbury nerve agent attack.
The Foreign Secretary described Vladimir Putin's staging of the tournament as an "emetic prospect" and said he was "deeply concerned" at the treatment travelling England fans would receive.
The Russian foreign ministry said his comments were "unacceptable" and "unworthy of a top European diplomat".
Appearing before the Commons Foreign Affairs Committee, Mr Johnson said the trail of evidence for the poisoning of former Russian double agent Sergei Skripal and his daughter, Yulia, led "inexorably" to the Kremlin.
With the plunge in diplomatic relations, he said the Foreign Office was monitoring the situation "very, very closely" in terms of England fans planning to attend the World Cup which begins in June.
He agreed with Labour MP Ian Austin who suggested the Russian president was planning to use the event "in the way Hitler used the 1936 Olympics" as a propaganda exercise to "gloss over" Russia's "gross human rights abuses".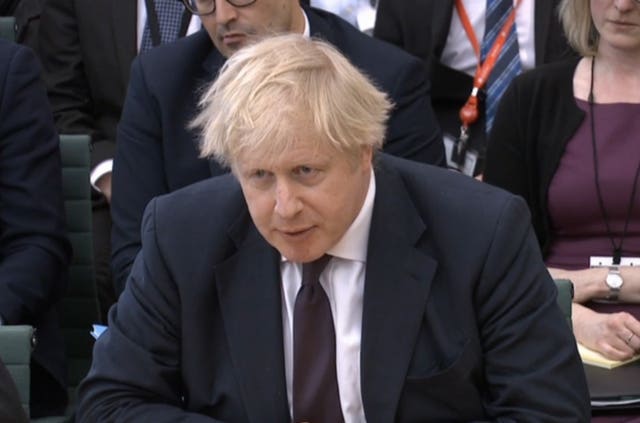 "I think it's an emetic prospect, frankly, to think of Putin glorying in this sporting event."
Russian foreign ministry spokeswoman Maria Zakharova said Mr Johnson was "poisoned with venom of hate, unprofessionalism and boorishness," adding: "It's scary to remember that this person represents the political leadership of a nuclear power."
"It is up to the Russians to guarantee the safety of England fans going to Russia. It is their duty under their Fifa contract to look after our fans," he said.
"We are watching it very, very closely. At the moment we are not inclined actively to dissuade people from going because we want to hear from the Russians what steps they are going to take to look after our fans."
Even before events in Salisbury, there were concerns that England fans could be targeted by violent Russian hooligan gangs.
Mr Johnson said the UK authorities had been co-operating with Russians at a "policing level" but there were now questions as to how that would continue.
He said that so far there had been 24,000 applications from England fans to attend the World Cup, well down on the 94,000 applications at the same stage of the Rio World Cup in 2014.
"The numbers are well down but that does not mean we are not deeply concerned about how they may be treated," he said.
Earlier the Russian foreign ministry's head of non-proliferation and arms control, Vladimir Yermakov, insisted Moscow bore no responsibility for the incident and dismissed British demands for an explanation as "absurd".
At a "briefing" for foreign diplomats in Moscow, he questioned whether the incident even involved a nerve agent, saying there would have been "numerous casualties" if one had been used.
"All the facts are being concealed intentionally and the real evidence could have vanished. This has happened before in Great Britain, repeatedly," he said.
Britain expelled 23 Russian diplomats after military scientists at Porton Down concluded the Skripals had been poisoned by a Russian made Novichok nerve agent, prompting a tit-for-tat round of explusionsby the Kremlin.
Mr Yermakov complained that the Russians had been denied consular access to Ms Skripal, who remains a Russian citizen, and said that it was up to the UK authorities to explain what had happened.
"The British authorities are either unable to insure protection against such terrorist acts on their territory or they themselves directly or indirectly, I am not accusing anyone of anything, have directed this attack against a Russian citizen," he said.
"There is simply no other third option here. In these circumstances requiring any explanations from the Russian side is simply absurd."