The Government is looking to quash company efforts to protect executive bonuses amid criticism of Carillion's pay policies following its controversial collapse.
Business Secretary Greg Clark confirmed plans to review the so-called clawback provisions while being quizzed by the Business and Pensions Committees on Wednesday morning.
It comes amid concerns that Carillion relaxed its clawback terms in 2016, meaning that cash and share bonuses could only be recovered if the firm's results were misstated or the executive was "guilty of gross misconduct".
Even then, that provision would only affect the bonuses awarded for the year when the misconduct or misstatement took place.
Mr Clark said: "This is absolutely our intention.
"They're referred to as antecedent recovery powers, they need to be updated to address the new changes that have become part of practice and that is exactly what we're doing."
Concerns were also raised about overall levels of executive pay at Carillion before it went bust, but Mr Clark said the responsibility rested on shareholders to "hold directors to account".
The Business Secretary went on to defend the Government's own handling of the collapse, which he said managed to soften the blow to public services.
Carillion had around 450 contracts with the Government, which represented around 38% of the company's revenues in 2016.
"A lot of focus was made by my colleagues in minimising the consequences for the public on that and I think that's had some success," Mr Clark added.
He admitted that lessons should be learned from "every corporate failure" but stopped short of calling for a complete overhaul of the Government's relationship with outsourcing firms.
"I've seen a view expressed that, for example, looking at the size of the balance sheet of a company might be something that is given greater prominence in procurement decisions.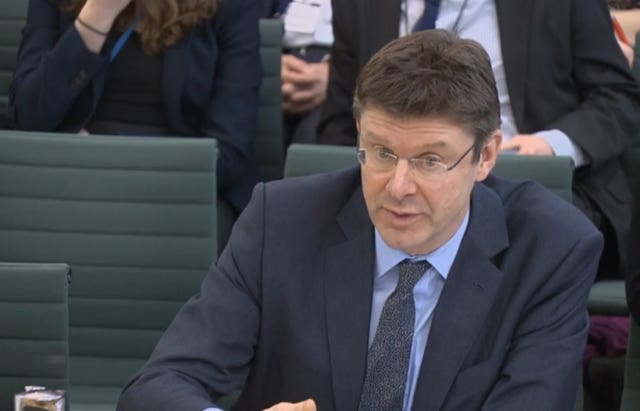 A string of big hitters from PwC, which is overseeing a wind-down of  Carillion, were also facing questions from MPs.
The Committee pushed Mr Clark on whether the Big Four accounting firms should be broken up after the debacle.
Figures show the four groups – EY, Deloitte, PwC and KPMG – collectively pocketed more than £70 million in the decade running up to Carillion's collapse.
"I don't want to answer that without considering advice on the consequences," Mr Clark said.
"In general I agree … that more competition tends to act in the interests of consumers and innovation. When you have a concentrated market, that is not a good state of affairs."
He assured MPs that he "will take an interest in whether further reforms are needed", including the suggestion for a break-up.