Theresa May's "marriage of convenience" with the Democratic Unionists is preventing her taking courageous decisions on the long-term future of the UK post-Brexit, Sir Nick Clegg has said.
The former Lib Dem leader said the Prime Minister's reliance on DUP votes was harming the UK national interest when it came to the Brexit negotiations.
The high-profile Remain advocate expressed concern about the impact of the confidence and supply deal as he met politicians in Dublin.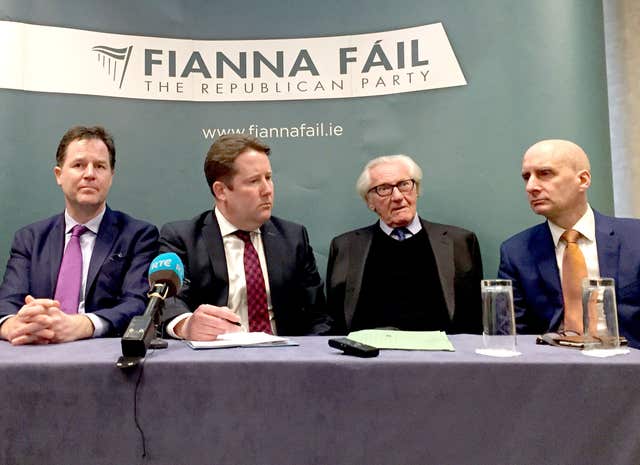 "It complicates things enormously," he said of the pact.
"It significantly restricts her ability to act more courageously on this crucial issue of the border issue.
"It has further hemmed in the ability of the British government to act wisely and courageously for the long-term future of the United Kingdom and also all these issues that affect the island of Ireland.
"It would seem in this great and historical moment, when so many things are at stake, pretty peculiar that a here-today-gone-tomorrow marriage of convenience between the DUP and Conservatives – because the Conservatives triggered and failed to win a general election – should be the thing upon which all these great decisions hinge.
"At some point Theresa May is going to have to take big decisions for the long-term future of the country, not just for the long-term future of this cobbled together majority she has assembled in parliament."
Sir Nick was in Dublin with fellow Remainers Lord Heseltine and Lord Adonis to discuss Brexit issues.
Lord Heseltine said he did not think the confidence and supply deal was affecting the Brexit negotiations.
"I don't think it is because I think that within the Conservative Party there is obviously a divide of opinion but a significant part of that divide would identify itself with the views of the DUP," he said.
"So even without the DUP, the same issues would be of crucial importance for Mrs May and the judgment she reaches."
Lord Adonis accused the DUP of doing a "very poor job" of representing the people of Northern Ireland, given it advocates Brexit but a majority in the region voted Remain.
"They are saying different things to different people," he claimed.
"They are saying to the Conservative Party in London that they are in favour of Brexit but they are saying to their constituents in Northern Ireland that they are against a (hard) border – well they can't have both of those things."