The number of households in England in temporary accommodation has increased by nearly two thirds since the start of the decade, Government figures show.
On December 31 last year 78,930 households were in temporary accommodation, up 64% from a low of 48,010 on the same date in 2010.
The figure was also up 4% on last year, when there were 75,740.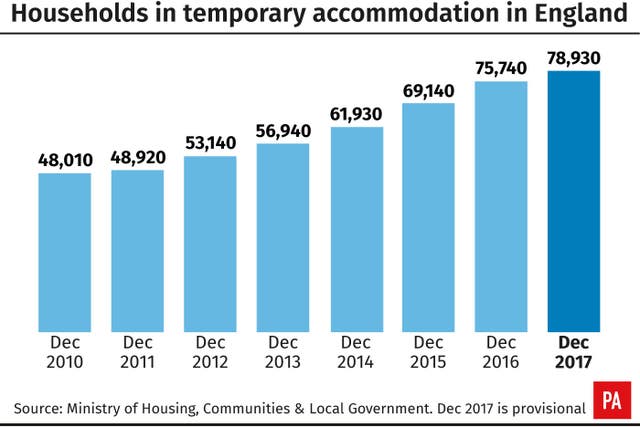 "It can have a devastating impact on people's lives and mental health, and it's no place for anyone to call home.
"This can't go on. Temporary accommodation can be an important short-term measure, but when so many people are finding themselves stuck there it's clear that the Government must invest more in schemes to prevent homelessness in the first place – and ultimately to end it once and for all."
Of the nearly 79,000 households in temporary accommodation, 14% were in shared facilities, including bed and breakfasts, hostels and women's refuges.
The other 86% of households were in self-contained temporary accommodation.
The figures, released by the Ministry of Housing, Communities and Local Government, showed that the number of households accepted as statutorily homeless in England fell to 13,640 between October 1 and December 31 last year, from 15,280 on the previous quarter and 14,420 on the same quarter of 2016.
These are households that are owed a main homelessness duty to secure accommodation as a result of being unintentionally homeless and in priority need, the report said.
"These latest statistics show encouraging signs that our investment and targeted support for local authorities is having a positive impact."
The Local Government Association's housing spokesman Martin Tett urged the Government to help councils borrow to build new homes.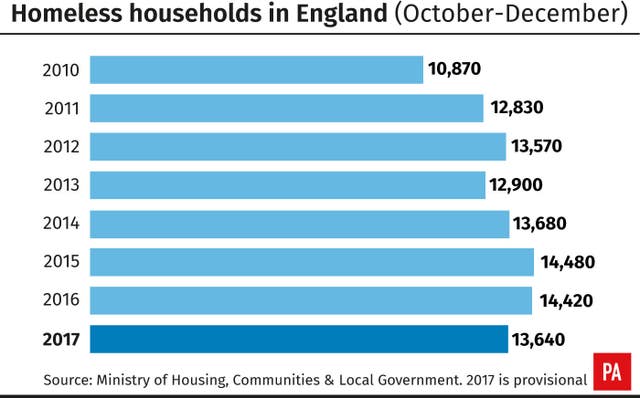 "That is not only unsustainable for councils, but hugely disruptive to the families involved, and it's crucial we tackle our national housing shortage at the root cause, by building the homes our communities desperately need."
The Homelessness Reduction Act 2017, which will be implemented on April 3, will change the way data is collected on the issue.
A broader definition of homelessness will mean councils are required to help more people secure accommodation.