About one in six pupils missed lessons last year for term-time holidays, official figures show.
Statistics show a rise in the number of youngsters taking at least half a day out of school to go away with their families, while at the same time, the proportion of parents fined for taking their youngsters out of school without permission fell.
In total, 16.9% missed at least a half day of lessons during the 2016/17 academic year for authorised and unauthorised holidays, compared with 14.7% the year before.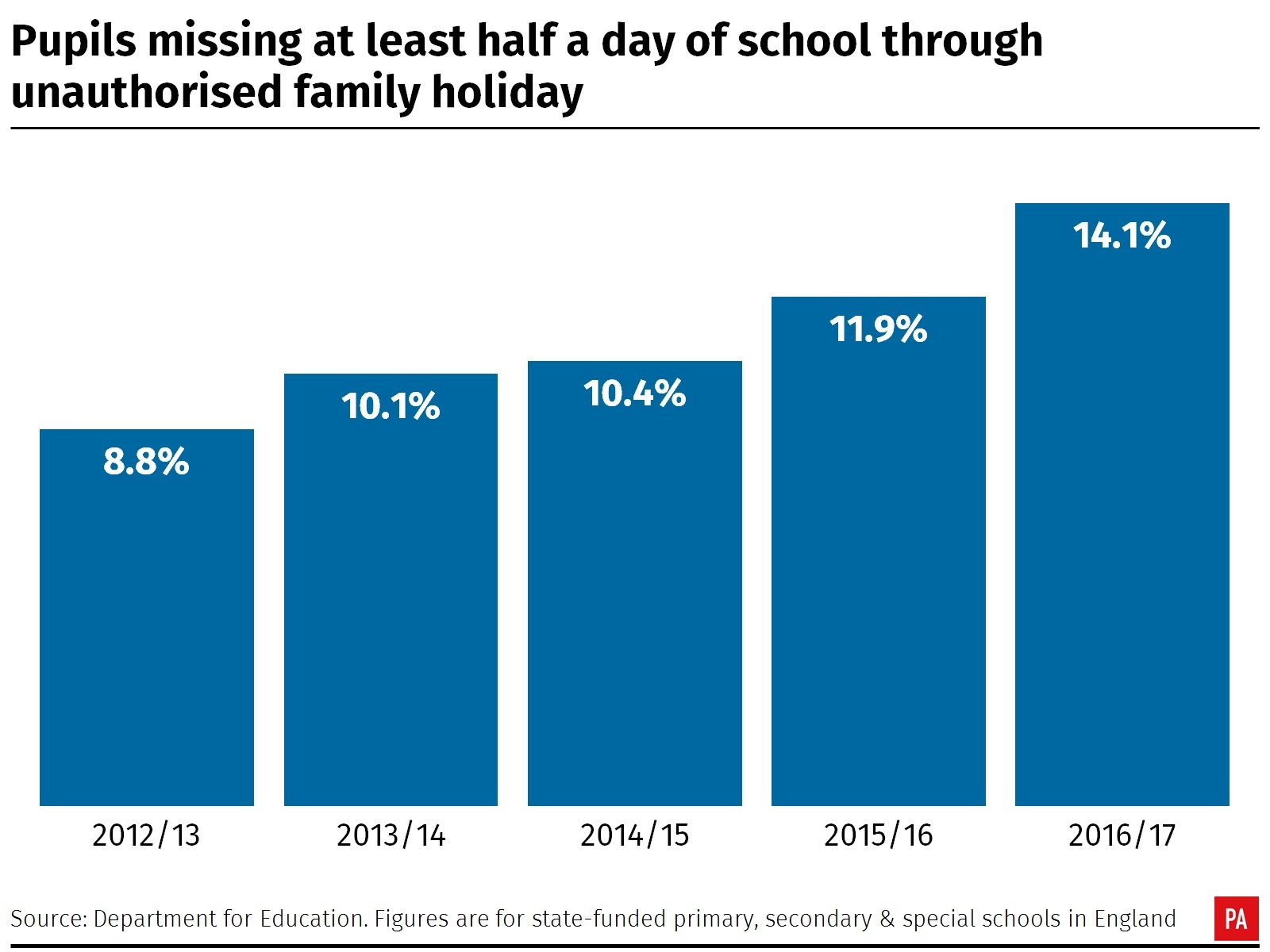 The majority of fines issued – more than three-quarters (77.5%) – were for unauthorised holidays, the statistics show.
The latest figures cover the period after a father won a high-profile High Court case in May 2016 over taking his daughter out of school for a holiday to Disney World, Florida, without permission.
It suggests that after this ruling, many mothers and fathers took decisions to take term-time breaks believing it was unlikely they would face action for doing so.
The case was later referred to the Supreme Court, where the father involved, Jon Platt, lost in April last year.
The rate is at its highest level since records began, according to the statistics, which cover state schools in England.
"This increase in unauthorised absence is due to an increase in absence due to family holidays that were not agreed by the school," Government statisticians said.
Tough new rules on school attendance were introduced in England in 2013, which said that headteachers could only grant pupils leave in term time – for any reason – in "exceptional circumstances.
The number of penalty notices issued has been generally rising since 2009/10, the statistics say, up until 2015/16.
"Therefore we believe that no child should be taken out of school without good reason – and the Supreme Court agrees with us.
"The rules on term-time absences are clear and we have put schools back in control by supporting them – and local authorities – to use their powers to deal with unauthorised absence."
Richard Watts, chairman of the Local Government Association's children and young people board, said: "Ensuring every child has a good school attendance is of paramount concern for everyone working with children, including councils, who have a legal responsibility to make sure children attend school regularly.
"However it is headteachers who know what is best for their pupils, and councils will support them to take the action they feel is necessary to address any issues with pupil attendance, including fining parents for unauthorised absences."
Justine Roberts, chief executive of parenting website Mumsnet, said: "It's possible that some parents saw coverage of the high court judgment and thought they had official permission to book term-time breaks; others (including lots of Mumsnet users at the time) will have spotted that the decision couldn't be interpreted that broadly.
"When the Supreme Court has to weigh in on what should be a straightforward matter of home/school communication, and when parents are poring over the judgment to assess its relevance to their situation, it feels like an indication that something isn't working optimally."