Ireland is to carry out a security assessment of Russian diplomats ahead of their possible expulsion from the country.
Taoiseach Leo Varadkar confirmed "individual action" against suspected agents was a possibility and a decision could be made as early as next week.
Britain has won the backing of EU leaders including the Irish premier after they accepted that the only "plausible explanation" for the poisoning of former double agent Sergei Skripal and his daughter, Yulia, was that Russia was responsible.
Mr Varadkar said: "A security assessment will be done – the Minister for Foreign Affairs, Tanaiste (Simon Coveney), and I already spoke about this – in the coming days so we will make that decision, I would say, the early part of next week."
He said some EU countries will expel Russian diplomats or withdraw ambassadors next week.
Russia is represented in Ireland by ambassador Yury Filatov and has an embassy in Ballsbridge in South Dublin.
Mr Filatov has a staff of 16, including defence attaches, counsellors and secretaries.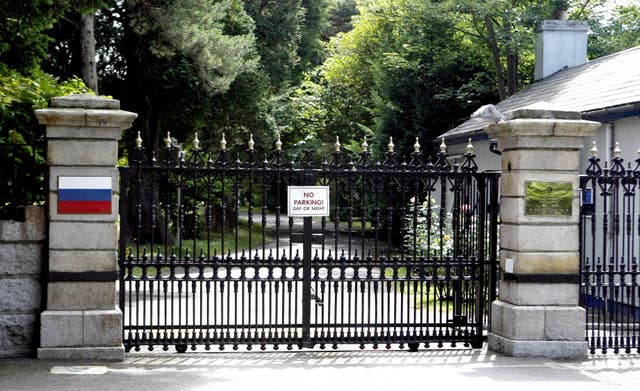 As a result of the sanctions, the value of exports between Ireland and Russia has fallen dramatically.
Expelling diplomats would represent a highly symbolic ratcheting up of the pressure as part of Irish solidarity with the UK following the Salisbury attack.
The UK has already turned out 23 Russian representatives, prompting retaliatory action from Moscow.
In her address to the other 27 EU leaders over dinner, Prime Minister Theresa May set out the four pillars of evidence which the UK believes put Russia in the frame:
– The positive identification by experts at Porton Down of the specific chemical used as a type of Novichok nerve agent;
– The knowledge that Russia has produced this agent within the last 10 years and remains capable of doing so;
– Russia's record of conducting state-sponsored assassinations; and
– Britain's assessment that Russia views defectors as suitable targets for assassination.
"What we will now consider in the coming days is whether we want to take individual action relating to Russian diplomats in Ireland, bearing in mind that what the UK did was to expel 23 diplomats who they believed were not actually diplomats, (but) were agents.
"So we would have to do a security assessment just like they did before that. We are not going to randomly expel people who are genuine diplomats."
Mr Filatov said he hoped Ireland will use its common sense in assessing any action it may take.
He told broadcaster RTE any expulsion of Russian diplomats from Ireland would be an "unfriendly action, that is certain".
He said Russia had nothing to do with the poisoning and there was no evidence or proof to suggest otherwise.