Protesters have held a rally in Edinburgh to show their support for a former member of Catalonia's regional government facing extradition to Spain.
Clara Ponsati, the ex-Catalan education minister, is expected to hand herself in to police in Scotland later this week.
Her lawyer has said she will oppose the "political prosecution" after a European arrest warrant was issued for her.
Around 60 people congregated outside the Consulate of Spain in Edinburgh on Monday to demonstrate against the arrest warrant for Ms Ponsati and criticise the actions of the Spanish Government.
Speaking during the rally, David Aguirre said: "I think that the moment that Europe has people in prison only because of their ideas, it's a moment where everybody – no matter what are your beliefs – should be protesting against that."
The 32-year-old, from Barcelona and living in Edinburgh, called for all of the arrest warrants to be dropped.
Pat Lee, 54, co-convener of Solidarity, said the protesters were demanding that "the democratic rights of the Catalonian people should be observed".
He said: "The Catalonia government in exile was democratically elected. It is Europe's shame that they are not standing up for the democracy that they claim to represent.
"What the Spanish Government are now doing is dictatorial. This is an affront to justice, it's an affront to democracy and it should stop."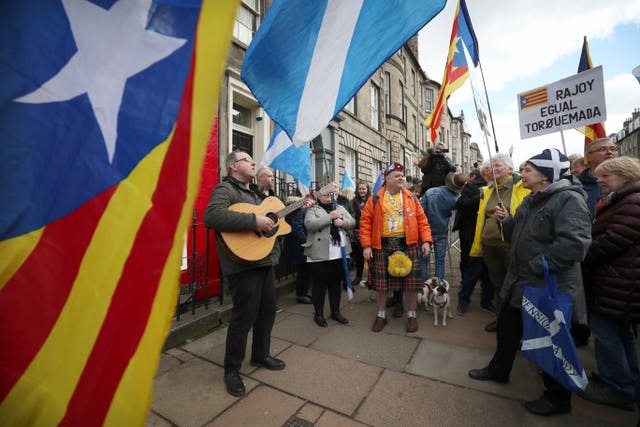 Ms Ponsati returned to Scotland earlier this month, having been in Belgium since fleeing Spain with Mr Puigdemont and three other former cabinet members following an unsuccessful bid to declare independence from Spain in October.
She posted on social media she had resumed working at the University of St Andrews in Fife.
Her lawyer Aamer Anwar said he will oppose her extradition to Spain under the arrest warrant.
Mr Anwar said following discussions with Police Scotland and the Crown Office, arrangements would be made for Ms Ponsati to voluntarily attend a police station this week then appear at Edinburgh Sheriff Court.
Bail would be applied for and a full hearing on the extradition request is expected to follow several weeks later.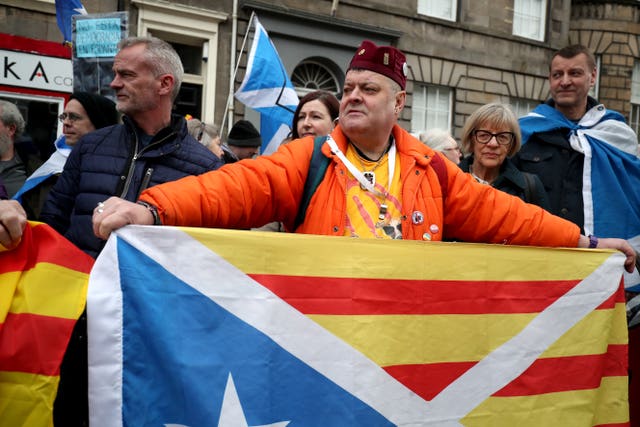 "She faces charges of rebellion with violence against the unity of the Spanish nation, but along with other politicians she promoted a peaceful referendum to express a democratic desire for independence from Spain. This offence is punishable by up to 30 years imprisonment.
"We will submit there are there are no guarantees of due process in Spain, of a right to a fair trial in a country where most members of the Catalan Government are already in prison or in exile."
SNP Westminster leader Ian Blackford has written to the Spanish Ambassador in London requesting a meeting on the issue as a "matter of urgency".
His letter states: "It is deeply disappointing that as part of this pursuit of pro-Catalan independence politicians a former minister, who is a respected academic in Scotland, now faces charges of rebellion – a charge which is not recognised in Scots law."
First Minister Nicola Sturgeon has said the Scottish Government "supports the right of the people of Catalonia to determine their own future and that we strongly oppose the Spanish Government's decision to seek the arrest and imprisonment of independence supporting politicians".
Professor Sally Mapstone, the principal and vice chancellor of St Andrews University, said staff there were "deeply concerned" by what was happening.