Porridge and a good sense of humour are the key to a long life, according to Britain's two oldest men who will celebrate their 110th birthdays this week.
Robert Weighton was born in Hull on March 29 1908, on the same day as Britain's other oldest man, Alf Smith.
The pair, who are due to mark their next impressive milestone on Thursday, have never met, but have exchanged birthday cards over the last few years.
It is not known which of the duo, who have lived through two World Wars, 29 general elections and in two millenniums, was born first.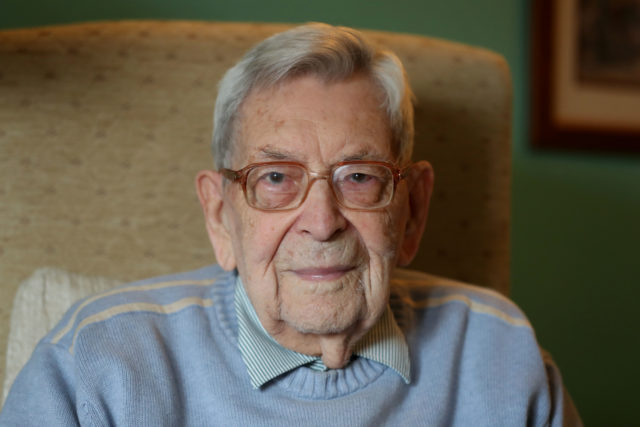 The centenarian dismissed smoking as "horrible" and "absurd" after trying it in his early teens, and is equally unimpressed by wealth, saying he "never wanted to become rich".
More valuable, he said, is a sense of humour: "I think laughter is extremely important. Most of the trouble in the world is caused by people taking themselves too seriously."
He has spent time overseas in Taiwan, Japan and Canada, and currently lives in a flat in a care complex in Alton, Hampshire, where he has a workshop in which he makes windmills and other ornaments.
The father-of-three – one of seven himself – has 10 grandchildren and 25 great-grandchildren.
Mr Weighton shares his age and birthday with Alfred Smith, from the village of St Madoes in Perthshire.
Mr Smith was born in Invergowrie in 1908, the fifth of six sons of John and Jessie Smith.
He was educated at Invergowrie Primary School and Harris Academy, Dundee.
He emigrated to Canada, along with four of his brothers, in 1927 but returned after five years and went on to drive lorries for his brother George.
The couple went on to farm at Kinfauns where they raised two children, Irene and Allan. Mrs Smith died more than 14 years ago, aged 97.
His son Allan, who worked with his father on the farm for 40 years, died in 2016.
Mr Smith retired at the age of 70 but continued to go to the farm until well into his 80s.
Asked for his secret to a long and happy life in an interview last year, the former farmer said: "Porridge is helpful and having a job you enjoy.
"I like to think I've lived a decent life. I do ask myself – why me? Why have I lived so long when others haven't?"