Britain will be a "different" country after Brexit, Theresa May has said.
As she conducted a whistle-stop tour of the four nations of the United Kingdom to mark a year until Brexit day, the PM called on Britons to "come together" to seize the "great opportunities" she expects as a result of EU withdrawal.
Mrs May said additional money will be available to spend on priorities like the NHS and schools once Britain is no longer sending "vast sums" annually to Brussels.
But, in a BBC interview, she steered clear of repeating Boris Johnson's term "Brexit dividend" and twice ducked the question of whether she believes Brexit will be "worth it".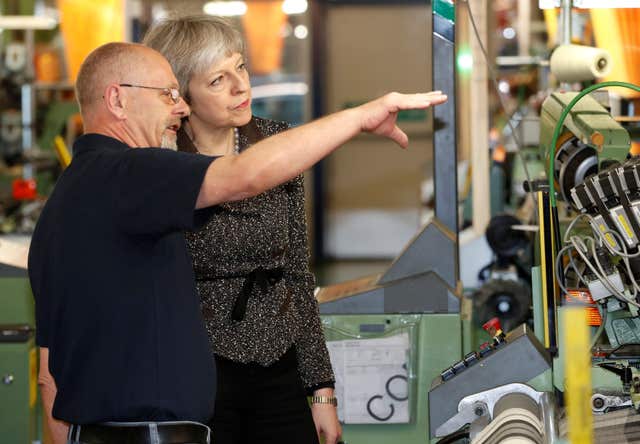 "I think it's a bright future out there. And yes, I think Brexit is going to deliver a country that will be different, but I think there are real opportunities for us as an independent nation for the future."
Speaking earlier in the day to LBC radio, Mrs May said she was "looking forward" to Brexit day on March 29 2019.
"Yes, I am looking forward to it because it presents great opportunities for the United Kingdom," she said.
The Prime Minister kicked off her tour with a visit to a textile company in Ayr, before attending a mother and toddler group in Newcastle and taking lunch with farmers near Belfast.
She was later due to go on to Barry in south Wales for a round-table discussion with businesses, before completing her tour in west London with a group of Polish citizens who have made the UK their home.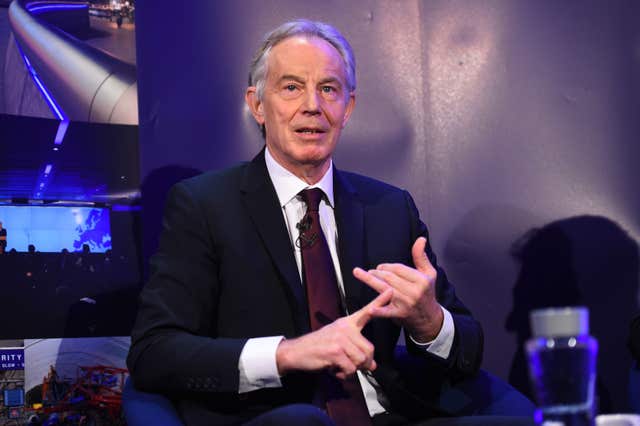 One survey this week recorded a 53%-47% lead for continued EU membership. But 65% in a new ComRes poll for the Daily Express said they did not want a second referendum and 68% said that Remain voters should respect the will of the majority who backed Brexit.
Labour's shadow chancellor John McDonnell accused the Government of being in "chaos" over Brexit, following a series of defeats in the House of Lords on its flagship EU Withdrawal Bill.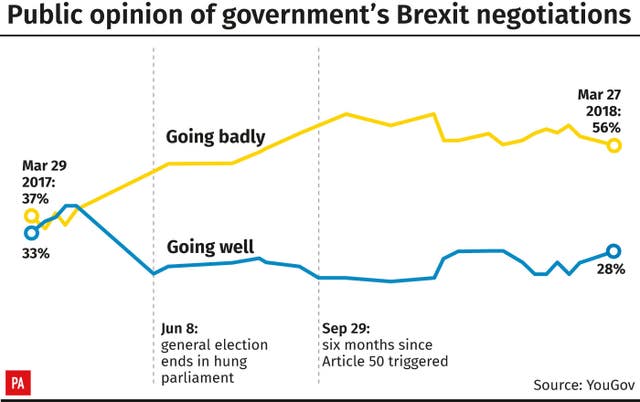 Former prime minister Tony Blair urged Mrs May to offer a free vote in the Commons on the final Brexit deal, telling the Independent that if she did not, Labour and Tory MPs should be ready to vote with their conscience and rebel.
And Mr Blair told BBC Radio 4's Today programme it was "more likely we can stop (Brexit) now than it was a few months ago".
Scottish National Party spokesman Michael Russell accused Mrs May of planning a "power grab" by repatriating some responsibilities currently exercised in Brussels to Westminster rather than Edinburgh.
"By pursuing a disastrous hard Brexit, regardless of the cost to jobs and living standards, Theresa May and the Tories have shown they think they can now do anything to Scotland and get away with it," said Mr Russell.
But Foreign Secretary Boris Johnson said that "a glorious view awaits" Britain when it finally quits the EU.
Writing in the Express, Mr Johnson said: "Like an unstoppable express, we are heading for Brexit and frankly, my friends, we can't arrive soon enough."
Speaking in Ayr, Mrs May said: "I believe we can negotiate a good agreement which is tariff-free and as frictionless trade as possible, so we maintain those markets in the EU, but also that we open up markets around the rest of the world.
"Brexit provides us with opportunities. I want to see us coming together, the four nations across the United Kingdom.
"We have a very strong union, that is in our interests and it is in our interests to come together and really seize these opportunities for the future."