An exhibition celebrating Glasgow's "greatest cultural icon" Charles Rennie Mackintosh is opening as the city celebrates 150 years since his birth.
The show at Kelvingrove Art Gallery and Museum spans his lifetime of 1868–1928 and presents the architect and designer's work in the context of Glasgow, his key predecessors, influences and contemporaries.
It features more than 250 objects including stained glass, ceramics, mosaic, furniture, textiles, interior and tearoom design and architectural drawings, most of which have not been shown in Glasgow for more than 30 years.
The Charles Rennie Mackintosh Making the Glasgow Style exhibition is one of the highlights in the Mackintosh 150 programme, a yearlong celebration of events throughout 2018.
"This exhibition is a celebration of his life, his work and the creativity, the immense creativity that was going on around him in Glasgow.
"This year has been an amazing opportunity to get so much of our civic collections out on display that people haven't seen before and that allows us to tell the story of Charles Rennie Macktinosh from his birth here in Glasgow in 1868 to his death in London In 1928."
Born in Glasgow on June 7 1868, Charles Rennie Mackintosh became a leading figure in both the Scottish Arts & Crafts Movement and European Art Nouveau.
An architect, designer and artist, he is considered one of the principal exponents of the Glasgow Style, a distinctive variant of Art Nouveau centred on The Glasgow School of Art and the work of "The Four" – Mackintosh, his future wife Margaret Macdonald, her younger sister Frances, and Frances' future husband, James Herbert McNair.
The exhibition looks at Mackintosh's work with The Four and the work of his friends and contemporaries including James Salmon Junior, Jessie Marion King and Talwin Morris.
It examines Mackintosh's architecture and design before finishing with a look at his career away from Glasgow, the evolution of the Glasgow Style into Art Deco and his move into intricate watercolour painting towards the end of his life.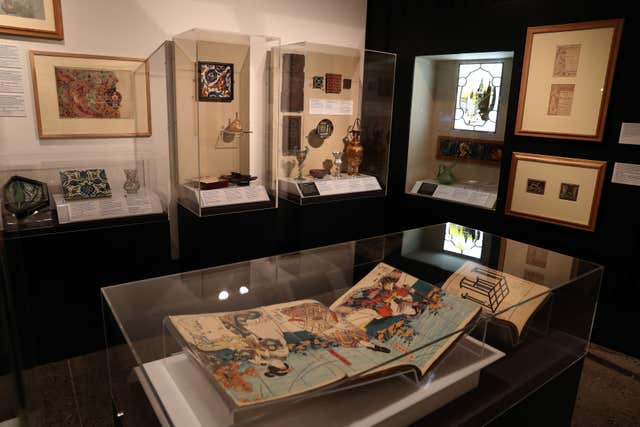 It was salvaged just before the building was gutted and repurposed into a hotel in 1971 and has not been seen in public since then.
Other objects on show include delicate watercolours not shown in a generation and unique pieces of furniture.
Councillor David McDonald, Glasgow Life chairman and Glasgow City Council depute leader, said: "We are delighted to bring this magnificent exhibition to Kelvingrove to celebrate the incredible legacy and creative genius of Glasgow's greatest cultural icon.
"Charles Rennie Mackintosh's ground-breaking work is now synonymous with Glasgow and lauded internationally so it is only right we mark the 150th anniversary of his birth with something very special.
"This exhibition gives Mackintosh aficionados space and time to enjoy a wealth of stunning objects, a number of which they will never have had the opportunity to see before.
"It has given us an opportunity to invest in the conservation and preservation of some fantastic pieces of art and design in our civic collections and share a new presentation of the Glasgow Style story, its influence and its incredible art with a whole new generation."
The exhibition runs from Friday March 30 to Tuesday August 14, 2018.
It features work from Glasgow's civic collections, alongside key loans from The Hunterian, The Glasgow School of Art, the V&A and a number of private lenders.