Scientists have created what they say is the world's first 3D thermal image of an active volcano.
The image of Stromboli in Italy was made using high-precision cameras mounted to an aerial drone.
A team of geoscientists from the Universities of Aberdeen and Oslo are using the technology to detect subtle changes in the behaviour of the volcano.
They hope it will be used to provide more accurate information on the likelihood of an eruption.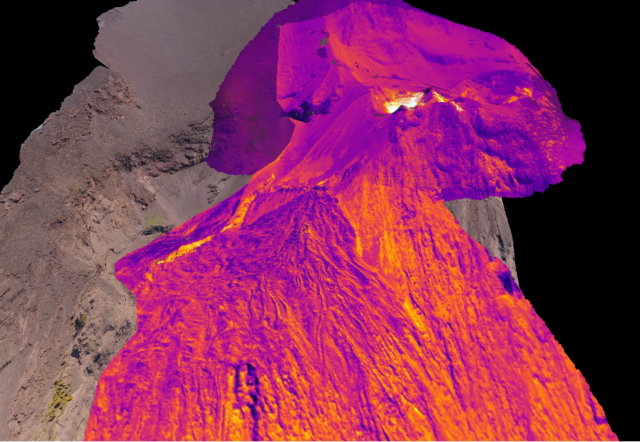 He added: "These are very small movements so not easily detectable, but by using the latest high-precision cameras we can notice subtle changes to the volcano that might signal an imminent eruption.
"The ability to deploy a drone really close to a volcano means that as well as getting high precision thermal mapping and imagery, we can also deploy portable seismometers and gas sensors in areas that are too dangerous for people to go."
Half a billion people live in the shadows of volcanoes globally, and most of those are in the developing world.
By 2050 that number is predicted to rise to a billion.
Initial research has allowed scientists to identify challenges involved in developing a fully-automated system, but they say early results are promising.
Professor Howell said: "Drone technology is moving so fast that we could have a system fully up and running in a few years.
"Being able to send a low cost portable drone unit to any volcano around the world could really revolutionise how we monitor volcanoes and be a game-changer for the people who live and work in their shadow.
"Ultimately this technology could help us build a much better idea of how volcanoes behave and in the future could save lives."