Bill Maynard will be best remembered for the eight years in which he brought to life the curmudgeonly king spiv of Aidensfield Claude Jeremiah Greengrass in Heartbeat.
Maynard played the role late in a career which spanned seven decades. He was the dishevelled rogue operating on the fringes of the law opposite Nick Berry and others for 10 series of the drama.
At its peak it was watched by up to 18 million and the comedy actor was loved for his scams in the heartwarming series set on the North Yorkshire moors in the 1960s.
He finally hung up Greengrass's tatty hat in 2000 aged 72, following a stroke in 1997 that led to scripts being rewritten to accommodate his recovery.
The actor, who lived in Leicestershire, also had a BBC Radio Leicester show that ran for five years from 2003 to 2008.
Maynard's career spanned television, film, comedy and music.
Born Walter Williams in 1928, he made his first appearance on TV in the BBC's Face The Music on September 12 1953, although he began performing even earlier.
In the mid-50s he made Great Scott It's Maynard for the BBC with fellow comic Terry Scott, who would go on to become a household name in Terry And June.
The pair had started out together with a revue company at Butlins in Skegness, where they topped up their salary by an extra 50 shillings a week doing the company's laundry.
In 1957, he attempted unsuccessfully to become the UK's Eurovision entry.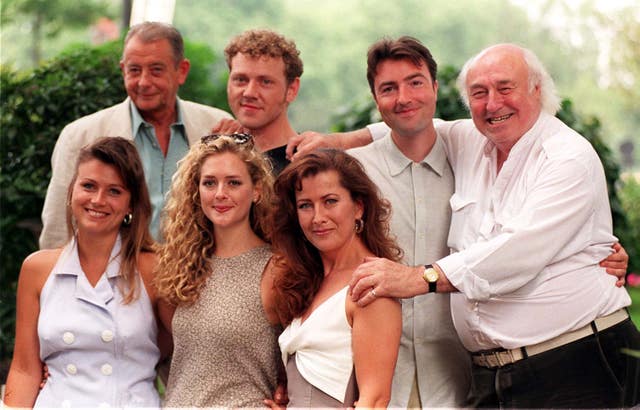 Speaking at the time he said that "making people laugh and smile brings me a lot of personal satisfaction".
He went on: "I am delighted to be still in the entertainment industry doing what I love most – 76 years since I began my career.
"I have had an amazing career and I consider myself to be very lucky to still have the energy and enthusiasm to take on new work."
On screen he clocked up appearances in Carry On films Carry On At Your Convenience, Carry On Matron and Carry On Dick, and comedy series The Gaffer.
In the 1970s he was also known for his role as the bumbling title character in sitcom Oh No, It's Selwyn Froggitt.
He later joined Heartbeat from its launch in 1992. The show ended after 18 series in 2010.
The twice-married star leaves a son and daughter, five grandchildren and three great-grandchildren.