Dozens of petrol bombs were hurled at police vehicles during a republican parade in Londonderry.
Heavy masonry was used to smash the windows of Police Service of Northern Ireland (PSNI) vehicles in the nationalist Creggan estate.
Flames also ignited around the heavily armoured whitewashed Land Rovers.
Sporadic trouble continued for around two hours on Monday.
Police warned demonstrators that it was an illegal parade.
Foyle Democratic Unionist Assembly member Gary Middleton said: "This was an unregistered parade and today the scenes coming from the Creggan area have been totally disgraceful.
"People in paramilitary-style uniform is wrong and the continued glorification of terrorism is abhorrent.
"Nobody has a desire to see the violence on display today, except for barbaric thugs intent on endangering life and property.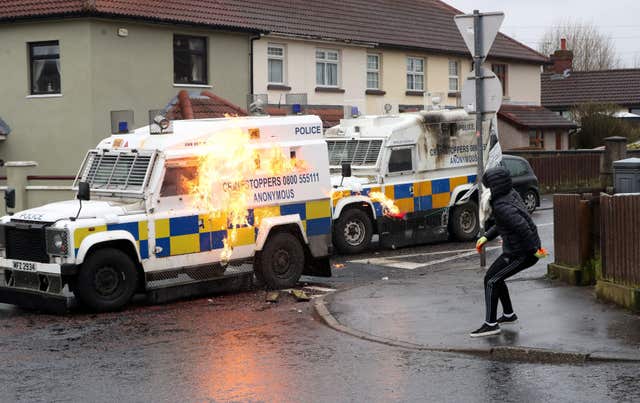 "The police have to be praised for the work they continue to do this weekend, as they uphold the law and thoroughly deal with illegal parades and displays of such a disturbing nature."
He said young people hurled petrol bombs.
"I hope the actions of all involved are investigated and those responsible feel the full weight of the law.
"The over-riding desire of many is to see events pass off peacefully and without any paramilitary trappings, unfortunately a minority in our communities are intent on creating destruction and fear.
"Again the demands of respect and equality from republicans ring hallow when there is little shown to those who uphold the law and work to keep communities safe.
"Those involved should not believe they are above the law."