Obese women are placing an increasing burden on the NHS, new figures show.
Hospital admissions due to obesity have soared and women are accounting for the lion's share of hospital spells, according to new data from NHS Digital.
More than a quarter (26%) of English adults are obese – including 2% of men and 4% of women who are classed as "morbidly obese", meaning they have a body mass index (BMI) score of over 40.
New figures from the health service data watchdog show that across England, hospital admissions directly attributable to obesity rose by 8% between 2015/16 and 2016/17.
There were 10,705 admissions where obesity was recorded as the main cause of admission, an increase on 9,929 admissions the previous year.
Almost three in every four patients (72%) were female.
Meanwhile, the number of hospital admissions where obesity was listed as a factor also increased significantly.
There were 617,000 admissions to English NHS hospitals in 2016/17 where obesity was recorded as either a primary or secondary diagnosis –  an 18% rise from 2015/16 when there were 525,000 admissions.
Two in every three patients (66%) were female, according to NHS Digital's latest report.
There were 6,700 bariatric surgeries conducted in hospitals across England in 2016/17 – 77% of these procedures were carried out on women.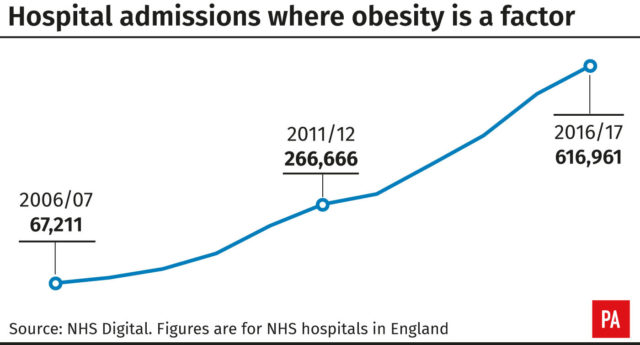 In England, 30% of women are overweight and 27% are obese.
Two in five men (40%) are overweight and 26% are obese.
The figures also provide data on physical activity levels and diet.
According to NHS Digital, a third of men and 42% of women did not meet the recommended weekly activity levels in 2016.
And 21% of men and a quarter of women were classed as "inactive".
Meanwhile, only around a quarter of adults – 24% of men and 28% of women – consumed the recommended five portions of fruit and vegetables a day in 2016.
The report also highlights previously published data on childhood obesity.
In 2016/17 one in 10 children starting school were obese compared to one in five starting secondary school.
Meanwhile only 16% of children aged five to 15 consumed the recommended five portions of fruit or vegetables a day in 2016, a fall from 23% in 2014.
Around half of children, 54% of boys and 49% of girls, consumed fewer than three portions a day.
But many parents of overweight and obese children believe their child is the right weight.
Data from the 2016 Child Health: Health Survey For England shows that 41% of mothers of obese children thought their child was "about the right weight" or too light, compared to 55% of fathers of obese youngsters.
Commenting on the figures, Labour's shadow health secretary Jonathan Ashworth, said: "These statistics reveal we still have a long way to go to tackle childhood obesity and ensure every child is given the best start in life.
"The shameful truth is a child born into poverty is likely to have worse health outcomes than a child born into wealthier circumstances.
"That's why tackling health inequalities starting with an ambitious programme to improve health and wellbeing of children will be an absolute priority of the next Labour government."