The new car market declined by 16% last month as demand for diesels continues to plummet.
Some 474,000 new vehicles were registered in March compared with 562,000 during the same month in 2017, according to the Society of Motor Manufacturers and Traders (SMMT).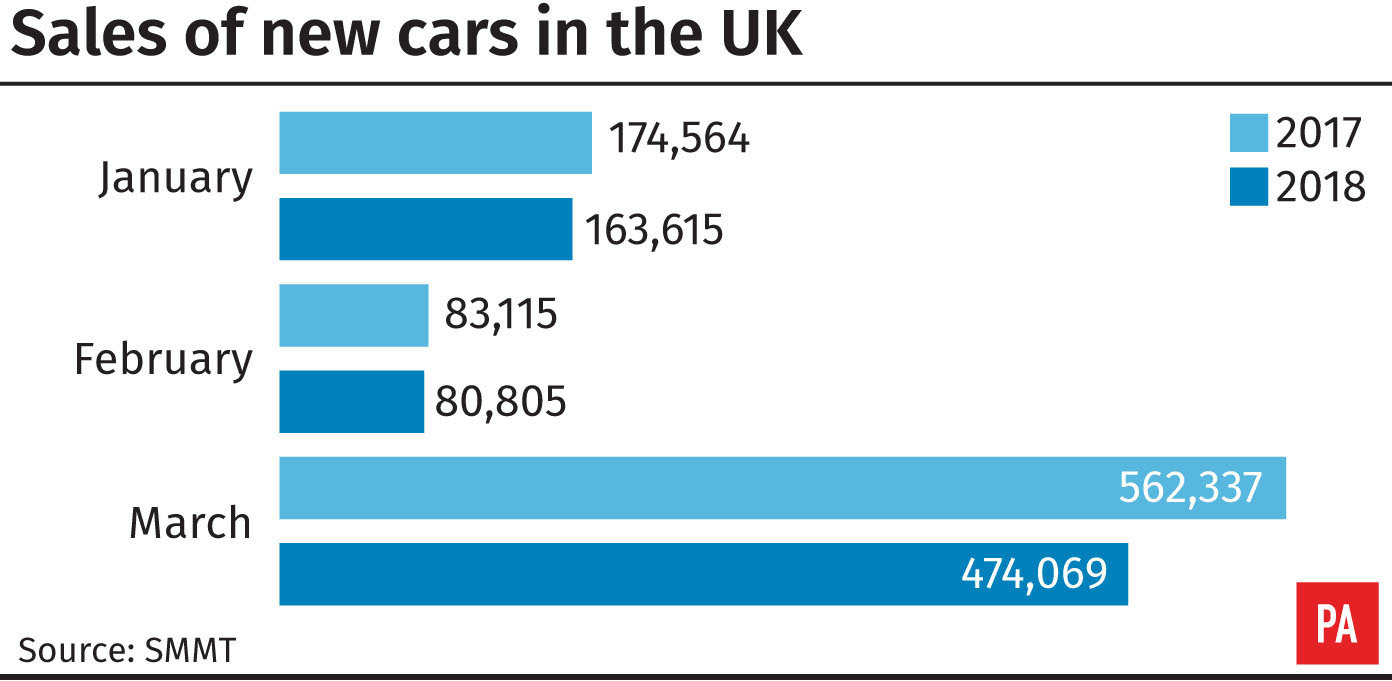 Registrations of petrol cars rose by 0.5%, while demand for alternatively fuelled vehicles such as hybrids and pure electrics increased by 6%.
The overall market fell by 12% in the first quarter of the year.
SMMT chief executive Mike Hawes said March's decline was "not unexpected" given the huge surge in registrations in the same month last year before changes to vehicle excise duty came into effect.
"The market itself is relatively high, with the underlying factors in terms of consumer choice, finance availability and cost of ownership all highly competitive," he said.
Jim Holder, editorial director of What Car? magazine, said low consumer confidence and uncertainty around the future of diesel vehicles "continue to have an impact" on the industry.
It is "pertinent" that the ongoing drop in diesel sales is not matched by equivalent rises in sales of petrol and electrified cars, he told the Press Association.
"Buyers don't believe that petrol or electrified cars can deliver the performance or economy benefits they need, and so they are holding on to older vehicles for longer," he said.
"That evidence would suggest once again that the Government would do well to clarify its position on diesels and to stimulate people into buying newer, cleaner cars."
All new diesels have been subjected to a one-band increase in the first-year vehicle excise duty rate since Sunday.
Plans have also been unveiled to ban the sale of all conventional diesel and petrol cars by 2040.
Justin Benson, head of automotive at auditors KPMG UK, said: "Much like businesses, consumers are currently in the wait-and-see camp, wanting certainty around the economic environment.
"Brexit, concerns over inflation above earnings growth and the Bank of England's hints that they will raise interest rates in the near future are all causing consumers to hold back.
"If you are in the market for a new car, you should drive a hard bargain."