Amber Rudd will commit to doing "whatever it takes" to make Britain's streets safe as she launches a blitz on violent crime.
The Home Secretary will emphasise the Government's determination to halt the rising tide of stabbings, shootings and acid attacks.
Ministers have faced sustained pressure over their response in recent days after a spate of killings in London.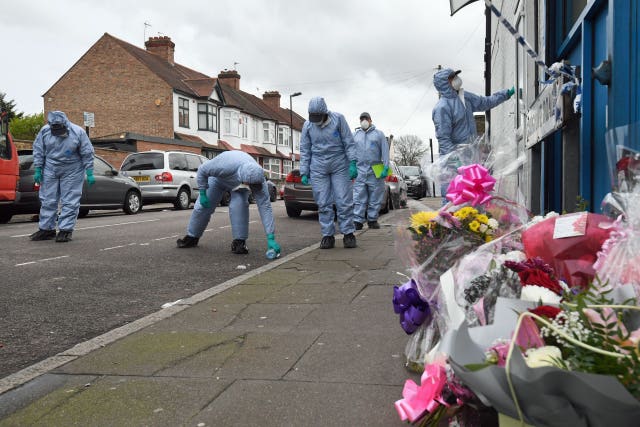 "As a Government, we will never stand by while acid is thrown or knives wielded.
"I am clear that we must do whatever it takes to tackle this so that no parent has to bury their child."
Ms Rudd is expected to highlight the importance of stopping youngsters carrying knives in the first place as she publishes the Government's Serious Violence Strategy.
Officials say the approach marks a "major shift" by striking a balance between prevention and law enforcement.
The strategy identifies the changing drugs market as a key driver of the violence affecting communities.
According to the document, around half the rise in robbery, knife and gun crime is due to improvements in police recording, with drug-related cases identified as an "important driver" behind the rest of the increase.
Figures show that between 2014-15 and 2016-17, homicides where either the victim or suspect were known to be involved in using or dealing illicit drugs increased from 50% to 57%.
The strategy sets out how drug-market violence may be facilitated and spread by social media as a small minority of individuals use online platforms to glamorise gang life and taunt rivals.
Plans for the crackdown were first announced last year.
The finalised strategy – underpinned by £40 million of Home Office funding and spearheaded by a new Offensive Weapons Bill – will:
– Call on social media companies to do more to rid the web of violent gang content
– Set out tough restrictions on online sales of knives following concerns that age verification checks can be sidestepped
– Make it a criminal offence to possess corrosive substances in a public place
– Reveal plans to consult on extending stop and search powers so police can use the tactics to seize acid from suspects carrying it without good reason
– Make it illegal to possess certain weapons, including zombie knives and knuckle-dusters, in private
Ministers are also stepping up efforts to tackle the "county lines" drug distribution model where city gangs branch out into rural or coastal towns, using children and vulnerable adults as couriers to move heroin and crack cocaine between the new market and their urban hub.
The Home Office will provide £3.6 million to support the development of a new National County Lines Co-ordination Centre, while the strategy details how modern slavery legislation could be used to prosecute cases.
In a speech in London Ms Rudd, who on Sunday rejected suggestions there were not enough officers on the streets, is expected to say: "This strategy represents a real step-change in the way we think about and respond to these personal tragedies, these gruesome violent crimes which dominate the front pages of our newspapers with seemingly depressing regularity.
"A crucial part of our approach will be focusing on and investing more in prevention and early intervention.
"Because what better way to stop knife crime than by stopping young people from picking up knives in the first place?"
Shadow home secretary Diane Abbott claimed the Government "has only just woken up to the problem of rising violent crime".
She said: "Acknowledging the need to tackle causes as well as effects of violent crimes is welcome but the money committed is very small scale.
"I am appealing to the Home Secretary to commit to no further decline in police numbers for as long as this Government is in office."
Actress Brooke Kinsella, whose brother Ben was stabbed to death in London in 2008, welcomed the strategy's focus on prevention.
The former EastEnders star, a trustee of the Ben Kinsella Trust, said: "To tackle knife and violent crime, you need to firstly address its underlying causes.
"Diverting young people away from crime must be our priority."
Loose Women star Linda Robson, whose son Louis was with Ben on the night of his death, told the Daily Mirror: ""What would I say to Theresa May? That even more needs to be done.
"It seems to me that nowadays, as young kids head out the door at night, they're not just picking up their telephones and their car keys; they're
picking up their telephones, their car keys and then their knives."
On Monday the Metropolitan Police said it had seized a samurai sword after it was used by a man to threaten someone in south London.