Boris Johnson has said the international community must respond to reports of a poison gas attack in Syria which is thought to have claimed at least 40 lives.
US President Donald Trump – who authorised missile strikes on Syria after a chemical weapons attack last year – warned there would be a "big price to pay" following the latest incident.
Mr Johnson said the UK was "in close touch with our allies" following the latest reports and called for those responsible to be "held to account".
Both the UK and US highlighted Russian and Iranian support for the Assad regime in their responses to the reported atrocity.
The alleged attack in the town of Douma occurred late on Saturday amid a resumed offensive by Syrian government forces after the collapse of a truce with the Army of Islam rebel group.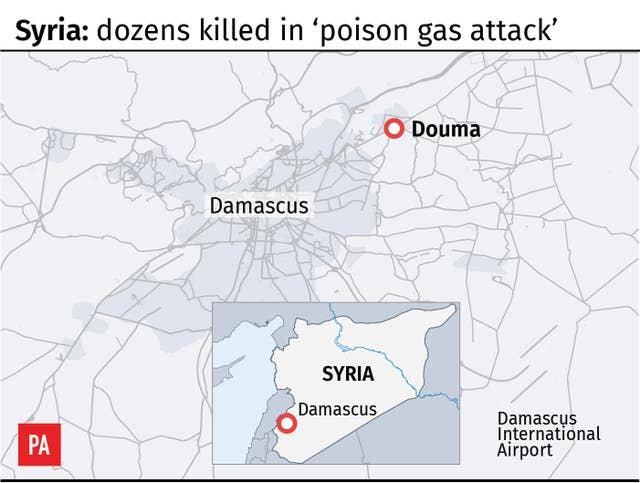 Families were reportedly found suffocated in their homes and shelters, with foam on their mouths.
Reports suggested more than 500 people, mostly women and children, were brought to medical centres with difficulty breathing, foaming at the mouth, and burning sensations in the eyes.
Mr Johnson said: "Reports of a large scale chemical weapons attack in Douma on Saturday causing high numbers of casualties are deeply disturbing.
"It is truly horrific to think that many of the victims were reportedly families seeking refuge from air strikes in underground shelters.
"Despite Russia's promise in 2013 to ensure Syria would abandon all of its chemical weapons, international investigators mandated by the UN Security Council have found the Assad regime responsible for using poison gas in at least four separate attacks since 2014.
"These latest reports must urgently be investigated and the international community must respond.
"Investigators from the Organisation for the Prohibition of Chemical Weapons (OPCW) looking into reports of chemical weapons use in Syria have our full support. Russia must not yet again try to obstruct these investigations. "
The OPCW is at the centre of the diplomatic row between the UK and Vladimir Putin's Russia over the nerve agent attack in Salisbury, with the organisation currently testing samples of the substance allegedly used in the incident.
Mr Johnson added: "Should it be confirmed that the regime has used chemical weapons again, it would be yet another appalling example of the Assad regime's brutality and blatant disregard for both the Syrian people and its legal obligations not to use chemical weapons.
"We condemn the use of chemical weapons by anyone, anywhere. We are in close touch with our allies following these latest reports.
"Those responsible for the use of chemical weapons have lost all moral integrity and must be held to account."
Mr Trump branded Assad an "animal" in a series of posts on Twitter.
He said: "President Putin, Russia and Iran are responsible for backing Animal Assad. Big price to pay."
The alleged gas attack in Douma comes almost exactly a year after a chemical attack in the northern Syrian town of Khan Sheikhoun killed dozens of people.
That attack prompted the US to launch several dozen Tomahawk cruise missiles at a Syrian air base.
President Trump said the attack was meant to deter further Syrian use of illegal weapons.