A man has been shot dead by police after making threats and claiming he had a gun, Scotland Yard said.
The man, believed to be in his 40s, was killed at an Esso petrol station in Collier Row Road, Romford, east London, early on Monday morning.
People living nearby described being woken by "pop" and "bang" sounds and seeing flashing blue lights and police vehicles swarming the area.
Tracy Green, 39, who lives around 100 yards from the station, said she was woken by two gunshots at around 4.45am.
She said: "I was just turning over and heard 'bang, bang' and thought, 'oh, that sounded like gunshots'. It's crazy really. It's too close to home."
Linda Leonce, 45, who lives on nearby Lodge Lane, said: "I was woken by a few kind of 'pop, pop' sounds and then there were some sirens."
Armed officers attended after the man called police at 3.50am making threats and claiming he had a firearm.
He was shot at around 4.45am and was pronounced dead at the scene about half an hour later.
Forensics officers moved a tent into the petrol station on Monday morning as much of the road remained cordoned off.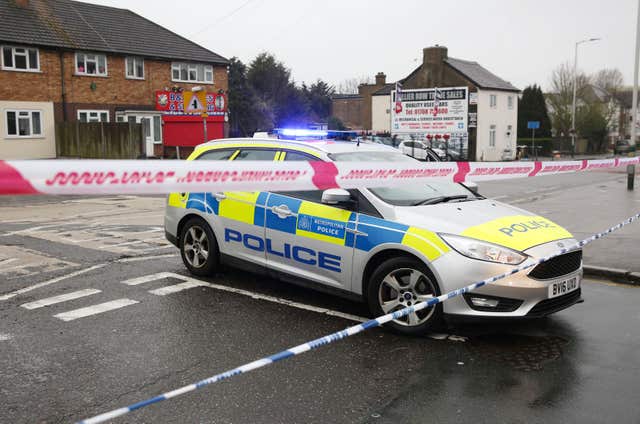 He said: "I didn't hear gunshots, but seeing all the vehicles I thought it was a car crash or something, seeing all the blue lights.
"There was just so much commotion going on outside. It was all kicking off. One of the police cars left sharpish with its sirens on just after 5am."
Romford's Conservative MP Andrew Rosindell tweeted: "Shocking incident in Collier Row today, just relieved no member of the public has been harmed. Thank you to the Police for protecting our community."
The Directorate of Professional Standards has been informed and a mandatory referral has been made to the Independent Office for Police Conduct.