Voters in Northern Ireland have to stop punishing politicians who compromise, former US president Bill Clinton has said.
He linked political paralysis to the rise of authoritarianism and warned that the 15-month stalemate at Stormont would eventually reach its limit.
The ex-president said it was easy to under-estimate the fragility of the system following the 1998 Good Friday Agreement which he helped create.
He told a Dublin audience: "No one will drop off the face of the Earth with any of the reasonable compromises that have been discussed.
"The only thing that would be calamitous would be to let the whole thing die. To confine ourselves to purgatory or go back to hell instead of going into a future."
"If you do that, slowly you will begin to lose your democracy in the North."
He added everybody could step back and make a new beginning.
"You have to be willing to give.
"Compromise has to become a good thing, not a dirty word and voters have to stop punishing people who make those compromises and start rewarding them."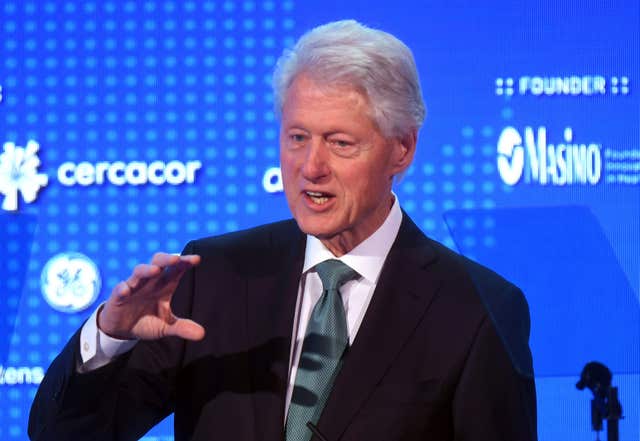 "The most important thing is that the peace is held and nobody has questioned democracy.
"There is a limit imposed by constant paralysis because even if the economy stays static, the politics don't.
"That is the challenge that every one of us faces today who cares about this.
"There is simply a limit to how long people can go on. It is about the people who live there and their kids and grandkids."
Mr Clinton has bolstered peacemaking in places like Colombia.
Drawing on lessons elsewhere, he added: "There is a limit to the elasticity of inertia, of paralysis.
"You should celebrate the anniversary of the Good Friday Agreement not for what happened but for what can happen."
Mr Clinton visits Belfast on Tuesday to receive the freedom of the city alongside his former special envoy to Northern Ireland George Mitchell.
He recalled staying up into the small hours the night the deal was struck, getting only a couple of hours sleep as he conversed with his special representative in Belfast.
He concluded: "In his Nobel Prize speech Seamus Heaney also said of WB Yeats that his intent was to clear a space in the mind and the world for the miraculous.
"Twenty years ago tomorrow, 17 hours late, everybody impatient, some brave people cleared a space for the miraculous – you should fill it."