A row over police staffing levels has intensified after the Government published a major report on violent crime without a single reference to officer numbers.
Home Secretary Amber Rudd faced calls to explain the omission as she unveiled the 114-page blueprint to make Britain's streets safe.
The study includes detailed sections of a range of possible factors including the emergence of social media and changes in the drugs market.
Hours before the strategy was published, the Guardian reported that internal Home Office research suggested that falls in police numbers had "likely contributed" to a rise in serious violent crime.
Ms Rudd denied seeing the leaked paper that apparently suggested offenders may have been "encouraged" after resources came under pressure and charge rates fell.
Arguing it was a "complex area" which is "not all about police numbers",  the Cabinet minister told BBC Radio 4's Today programme: "You cannot arrest your way out of this."
The Home Secretary said police forces with the largest falls in numbers had not seen the sharpest rises in crime.
Following a speech to unveil the strategy in central London, Ms Rudd said the Government recognised officers had come under additional pressure following a rise in reporting of crime.
Ms Rudd said she had addressed this by ensuring forces "have the resources when they need them".
She added: "There are elements where police forces can do more to help themselves – there's efficiencies they can put in place, there is new equipment they can put in place."
Labour has repeatedly focused on the reduction, which has come under fresh scrutiny following a spate of killings in London.
Shadow home secretary Diane Abbott said: "The Tories' concern about knife crime doesn't even run so far as providing new money or extra officers to tackle it.
"The Tories have slashed police funding and resources, leaving them struggling to cope with rising serious crime.
"This latest announcement looks like a cover up of their own failures."
Work on the package of measures started last year but it has been finalised against a backdrop of mounting calls for action following a spate of stabbings in the capital.
Underpinned by £40 million of Home Office funding and a new Offensive Weapons Bill, the strategy:
– Calls on social media companies to do more to rid the web of violent gang content
– Sets out restrictions on online sales of knives following concerns that age verification checks can be sidestepped
– Makes it a criminal offence to possess corrosive substances in a public place
– Reveals plans to consult on extending stop and search powers so police can use the tactics to seize acid from suspects carrying it without good reason
– Makes it illegal to possess certain weapons, including zombie knives and knuckle-dusters, in private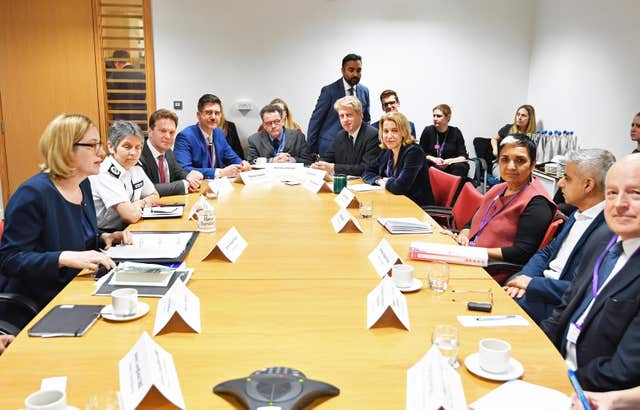 Ministers are also stepping up efforts to tackle the "county lines" drug distribution model where city gangs branch out into rural or coastal towns, using children and vulnerable adults as couriers to move heroin and crack cocaine between the new market and their urban hub.
Ms Rudd emphasised the importance of early intervention.
She said: "I am determined we take action to address serious violence and in particular the recent increases in knife crime, gun crime and homicide.
"The strategy supports a new balance between prevention and effective law enforcement."